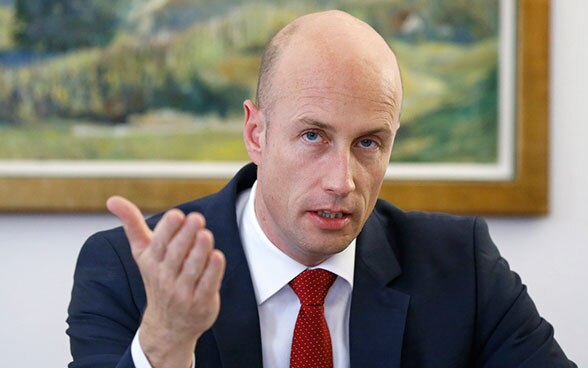 Mr Gerber, the focus of this year's Swiss development cooperation annual conference in Zurich was the 2030 Agenda. In December 2015 the Federal Council requested that the SDC coordinate the next steps in implementing the agenda in Switzerland together with the Federal Office for Spatial Development. What will these steps be?
In the next few months an analysis will be carried out by an interdepartmental working group made up of all the federal offices involved which is coordinated by the SDC and the Federal Office for Spatial Development. The aim of this review is to determine where Switzerland needs to take action and to formulate the measures for this in order to implement the 2030 Agenda. It will also establish how this will be coordinated, who will be responsible for what, and which instruments will be used.
It is already clear that the Dispatch on International Cooperation 2017-2020 and the Federal Office for Spatial Development's Sustainable Development Strategy 2016–2019 determine the general course of action for Switzerland's implementation of the Sustainable Development Goals (SDGs). 
What role will the SDC have in this?
When it comes to implementation within Switzerland, the SDC's role will be to coordinate how these global objectives can be translated at national level.
In the international context, the main strategic instrument guiding Switzerland's efforts in this field is the international cooperation dispatch for 2017-2020 mentioned earlier. Naturally the SDC will have a key role to play here.
Harmonisation between the global and domestic context is crucial in order to ensure that Switzerland's efforts are consistent. All of Switzerland's contributions – both national and international – will be put together in the report for the UN. 
How will the individual objectives of the 2030 Agenda impact concretely on the SDC's work over the next few years? Can you give us an example?
First I'd like to make it clear that the 17 goals and 168 targets set out in the agenda go far beyond the limitations of international development cooperation. International development cooperation can also only cover a small percentage of the funds that are needed. 
Nevertheless the new goals provide strategic guidance for the SDC's work. The 2030 Agenda includes many areas and measures that are important for the SDC.
For example the goals on poverty, health, food security, education, gender equality, water, climate, economic development, employment, peace and the rule of law are all important thematic areas for the SDC. There are also concrete targets on migration and disaster risk reduction, two additional areas of activity anchored in the SDGs – in part by Swiss efforts – where the SDC has a leading role to play internationally.