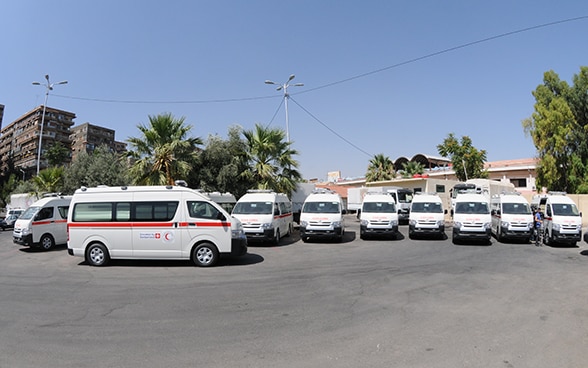 Switzerland is financing twelve new ambulances to improve the situation of people suffering from the consequences of the war. The vehicles were purchased through the International Federation of Red Cross and Red Crescent Societies (IFRC) in Dubai and transported by sea to the Syrian port city of Latakia. From Latakia, the ambulances were transported to a SARC warehouse in Damascus. The official delivery to the SARC took place in the warehouse on 18 July 2016 in the presence of a delegation of the SDC's Swiss Humanitarian Aid Department (HA) and the Swiss honorary consul in Aleppo. The project also aims to provide financial support to the SARC for several months in order to ensure the proper maintenance and operation of the ambulances. The total costs of the project amount to CHF 900,000.
The Swiss delegation, headed by the delegate for humanitarian aid, Manuel Bessler, set out from Beirut in the morning of 18 July and crossed the Lebanese border into Syria. The delegation continued to Damascus, where discussions to improve humanitarian access to the suffering Syrian population and compliance with international humanitarian law are under way. 
 
The ambulances are urgently needed in Syria because the country's health system has too few ambulances to cope with the enormous number of victims caused by the war, including attacks against hospitals. Seven of the vehicles will be based in SARC's Aleppo branch and five at its headquarters in Damascus. The Aleppo Governorate is one of the regions that has been most seriously affected by the conflict. There is no functioning ambulance system for the more than two million residents of Aleppo. This Swiss Humanitarian Aid project is strengthening the capacities of the health system in the districts of Aleppo that are under government, opposition and Kurdish control.
Since the conflict broke out more than five years ago, Switzerland has provided some CHF 250 million for humanitarian aid in Syria and neighbouring countries. In 2016 at least CHF 50 million is being sent to the crisis region. Switzerland is providing support in particular to the International Committee of the Red Cross (ICRC), to UN organisations and to international NGOs that are carrying out resilience projects in and around Syria.  Experts from the Swiss Humanitarian Aid Unit (SHA) are also working on the ground. At the political level, Switzerland is actively supporting the UN's peace efforts and is also working to ensure compliance with international law.
---
Further information:
Switzerland's commitment to the victims of the crisis in Syria

---
Address for enquiries:
Information FDFA
Bundeshaus West
CH-3003 Bern
Tel.: +41 58 462 31 53
Fax: +41 58 464 90 47
E-Mail: info@eda.admin.ch
---
Publisher: