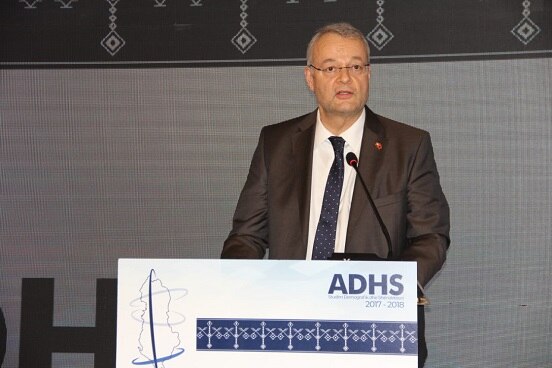 A new edition of Albania's Demographic and Health Survey was published last Wednesday and launched through an event at Tirana International Hotel. Carried out through joint work between several Albanian institutions and international partners, the survey is a crucial tool for evaluating current policies and programmes and drafting new ones.
"The Demographic and Health Survey 2017-2018 confirms the positive trend of increased access to health services at the location where citizens live", said Minister of Health and Social Protection Ogerta Manastirliu.
"The Albanian Demographic and Health Survey is an important source of data on family health, population, fertility, family planning, nutrition, mortality, behavioral risk factors, and so on", said Swiss Ambassador Adrian Maître. "Health information should be in formats that meet the needs of multiple users − policy-makers, planners, managers, health care providers, communities, individuals", added Ambassador Maître.
The INSTAT Director Delina Ibrahimaj presented some of the key elements and findings from the survey, including data on demographics, birth rates, family planning, infant and mother's health, HIV, and food habits. 
"The Demographic and Health Survey 2017-2018 is a key tool for creating a database to monitor the progress made towards achieving national objectives, including the Sustainable Development Goals (Agenda 2030), and towards the EU integration", highlighted UN Resident Coordinator in Albania, Brian Williams.
The last survey of this kind was done ten years ago. This new version includes an orientation towards non-communicable diseases.
Swiss support was provided through the SDC project 'Health for All' and included a 800,000 CHF contribution alongside the UN and Government of Albania's contribution. 'Health for All' is one of the key projects supporting primary health care in Albania.