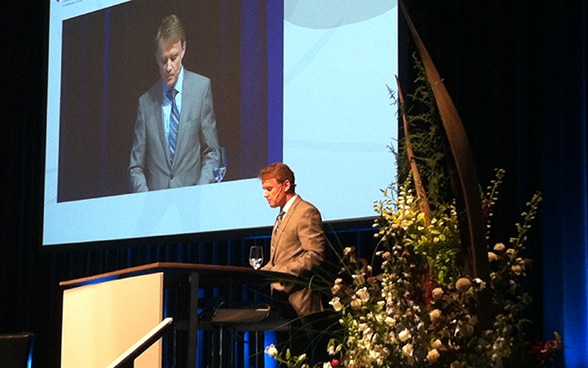 «Funktioniert die Gemeinde, in der ich wohne, gut?», fragte sich Manuel Sager, Direktor der Direktion für Entwicklung und Zusammenarbeit (DEZA), in seiner Eröffnungsrede anlässlich der von der DEZA und vom Staatssekretariat für Wirtschaft (SECO) gemeinsam organisierten Konferenz. Bevor Botschafter Manuel Sager seine Frage mit ja beantwortete, zählte er ein paar konkrete Dienstleistungen auf, die der Schweizer Bevölkerung geboten werden: fliessendes Trinkwasser, regelmässige und umweltverträgliche Abfallentsorgung, rasche Ausstellung von amtlichen Dokumenten, Steuertransparenz. Dies sind für ihn genügend Beweise, dass starke und unabhängige Gemeinden eine Schlüsselrolle spielen in einem modernen und demokratischen Staat mit einer offenen Marktwirtschaft.
In Albanien, einem in der Vergangenheit stark zentralisierten Land, sind nur 9% der Staatseinnahmen für die lokalen Behörden bestimmt. Auch die übrigen Länder des Westbalkans liegen in dieser Hinsicht klar unter dem europäischen Durchschnitt von 24%. Die Schweiz, die über eine lange Erfahrung mit föderalistischen Strukturen verfügt, unterstützt in Albanien, in Bosnien und Herzegowina, im Kosovo, in Mazedonien und in Serbien Dezentralisierungsbestrebungen. Ihr Ziel ist es, langfristig zu einer Stärkung der Gemeinden beizutragen. Konkret setzen sich die DEZA und das SECO dafür ein, dass Gemeindevereinigungen an den Reformgesprächen teilhaben und Einfluss auf die Entscheide nehmen können, die in den Hauptstädten gefällt werden. Das Projekt zur Unterstützung des Network of Associations of Local Authorities from South-Eastern Europe (NALAS), eines Netzwerks, dem 16 nationale Gemeindevereinigungen aus südosteuropäischen Ländern angehören und das 9000 lokale Behörden vertritt, leistet einen wichtigen Beitrag zur regionalen Zusammenarbeit und zur politischen Stabilität in der Region.
Ausserdem unterstützt die Schweiz ein innovatives Projekt zur Förderung kommunaler Infrastrukturprojekte, das bei den Gemeindedienstleistungen die langfristige Finanzierung sicherstellt und für Nachhaltigkeit sorgt. Der hierfür gegründete und von der Schweiz unterstützte Fonds (Municipal Infrastructure Development Fund, MIDF) unterstützt lokale Banken beim Aufbau von Finanzierungsstrukturen für kommunale Infrastrukturinvestitionen. Dazu gehören etwa Investitionen in die Wasserversorgung, das Abfallmanagement, die Energieversorgung, den öffentlicher Verkehr oder die Gebäude- und Energieeffizienz.
Mit Bezug auf den Transistionsprozess, in dem sich der Westbalkan befindet, verwies DEZA-Direktor Manuel Sager auch auf den Übergang zur Marktwirtschaft und die hohe Arbeitslosigkeit, namentlich unter Jugendlichen. Sie stellt eine grosse Herausforderung dar, erreicht sie doch in gewissen Regionen 60%. «Unsere Kooperationsprogramme profitieren vom Schweizer Knowhow, namentlich wenn es um nachfrageorientierte Aspekte und den Einbezug des Privatsektors in der Berufsbildung geht», erklärte er und erwähnte insbesondere ein DEZA-Programm in Bosnien und Herzegowina, dank dem 875 Jugendliche 2014 eine Stelle gefunden haben.
In ihrer Abschlussrede identifizierte Staatssekretärin Marie-Gabrielle Ineichen-Fleisch den Föderalismus als einen Ursprung starker Gemeinden in der Schweiz. «Er bietet durch die weitgehende Delegation von Kompetenzen an die einzelnen Gliedstaaten einen wirksamen Schutz und Einbezug von sprachlichen, religiösen und kulturellen Minderheiten. Dadurch leistet er einen zentralen Beitrag zum nationalen Zusammenhalt», erklärte die SECO-Direktorin. Föderale Systeme seien zudem stärker in der Lage, auf die unterschiedlichen Bedürfnisse der Bürger einzugehen und ermöglichten auf diese Weise eine grössere Bürgernähe und Teilhabe am politischen System.
Kontakte
Information EDA
+ 41 (0)58 462 31 53
info@eda.admin.ch
SECO
Nicole Müller
Koordinatorin Aussenbeziehungen und Anlässe
+41 (0)58 464 09 10
nicole.mueller@seco.admin.ch
---
Weiterführende Informationen
Dossier auf der EDA-Website
Dossier auf der SECO-Website
Schweizer Ostzusammenarbeit auf youtube

---
Adresse für Rückfragen:
Information EDA
Bundeshaus West
CH-3003 Bern
Tel.: +41 58 462 31 53
Fax: +41 58 464 90 47
E-Mail: info@eda.admin.ch
---
Herausgeber: