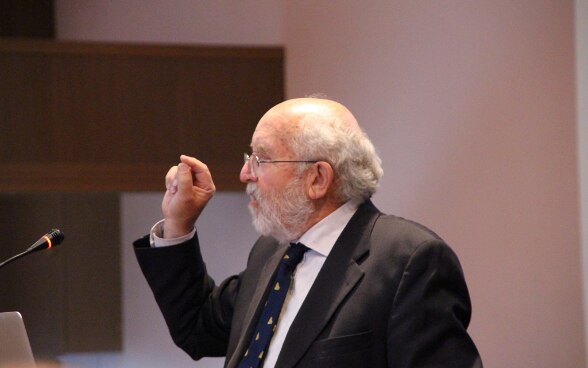 Prof. Michel Mayor of the University of Geneva, a several-times Nobel Prize nominee, was invited by the Embassy of Switzerland in cooperation with Byurakan Observatory. Prof. Mayor's programme in Armenia concluded on May 31st, 2017, with a lecture and workshop on "Exoplanets and Astrobiology" which was held at the National Academy of Sciences of Armenia.
Astrobiology is one of the most fascinating recent developments in interdisciplinary science, combining astrophysics, biology, chemistry and other fields. Prof. Mayor lay the ground for new progress in this discipline, when, in 1995, he was the first scientist ever to discover a planet which is situated outside of our Solar system.
51 Pegasi, as the planet is called, was followed by many more discoveries. Today, the proven planets outside our Solar system already number several thousands. Many of them were either discovered by Prof. Mayor himself, or with a method, which he and his team at the University of Geneva have developed in the early nineties.
Prof. Mayor is an old friend of Armenia. He was the first scientist to be awarded the Victor Hambardzumyan Prize of the National Academy of Sciences. This year, we celebrated his 75th anniversary. Prof. Mayor continues to be very active in research, thus inspiring generations of scientists and space enthusiasts all over the world.