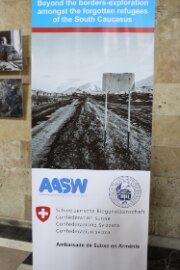 On 17 March 2017, the Ambassador Lukas Gasser attended the exhibition  "Jenseits der Grenzen" (Beyond the Borders) of Jan Zychlinski, a German photographer and a professor of Bern University of Applied Sciences.
The exhibition which was sponsored by the Embassy of Switzerland in Armenia allowed the Armenian public to discover through photographs the destinies and living conditions of the refugees of the conflict after the collapse of the Soviet Union of the South Caucasus region.
Visit Jan Zychlinski's photo exhibition, presented on the 3rd floor of Yerevan State University (Alek Manukyan 1 St.).
The exhibition is shown every day from 9am to 7pm, and will remain on display until the 30th of April.