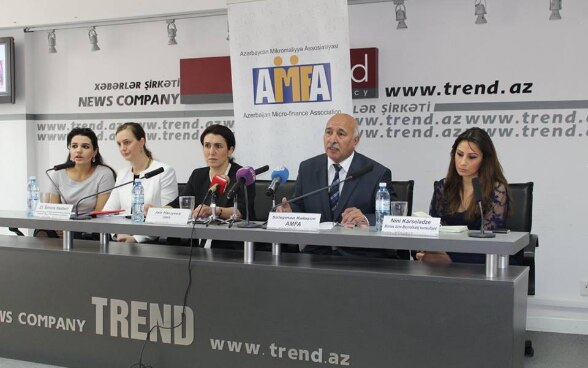 The executive director of AMFA, Jala Haciyeva, said that in Azerbaijan, by 31 January, the total volume of the micro-credit portfolio of micro-credit institutions was USD 685,267,174, and that in 2015, they served a total of 115,747 women, which makes 23.5% of all clients. In Europe, this figure constitutes 30% on average. Despite the fact that fewer women take micro-credits than men, analysis shows that women are more responsible in handling loans than men. For instance, in Azerbaijan, 15% of women clients have non-performed loans, which compares 32% of men. According to calculations, women's multiplying effect for the loans taken is 39%, whereas for men, it is only 29%. Women tend to take loans around 1000-1500 Azerbaijani manats, or about USD 700-1000.
The speakers stressed the importance of women employment by MFIs to make services for women more friendly and accessible. A small-action project funded by the SCO and implemented by AMFA made very good results by providing training to a total of 40 women, after which 21 of them found employment as loan officers in rural areas. Those female professionals were in turn in a better position to attract female customers for the companies that hired them. 
The deputy regional director of the SCO South Caucasus, Simone Haeberli, was also invited to the conference to share the Swiss experience on micro-finance in the world. She mentioned that Switzerland regularly co-finances the World Bank Study "Women, Business and the law", which is currently in its fourth edition covering 173 countries, and added that according to the findings of this study, women face discriminatory legislation on land ownership which prevents women from accessing loans due to collateral issues. Fortunately, some countries have made essential progress in this regard lately. 
Ms. Haeberli also cited a very interesting experience from a Lebanese bank called BLC Bank. The bank introduced female banking, which led to increased number of bank accounts and doubled volume of credits within a few months. The bank's CEO, a man, stated: "Initiatives like these are key to changing attitudes about the role of women in society. At the same time, we are also demonstrating that there is considerable commercial advantage in providing women with concrete means to access financing for their businesses". 
Ms. Haeberli offered the same experiences to Azerbaijan. She said that it is important for Azerbaijan to benefit from this untapped potential. The private sector, particularly, MFIs should use this potential to increase their income and also contribute to the country's economy. 
Women entrepreneurs and female employees of MFIs spoke about their experiences and suggested ways how to increase the number of women taking micro-loans and support women to become entrepreneurs.