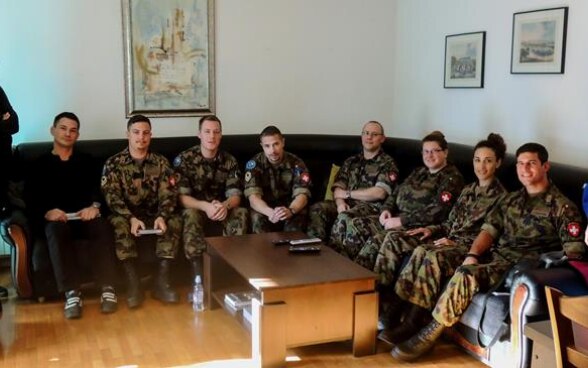 The morning meeting starts at 8am sharp.
"A man, who tried to sell a missing original of the Dayton Agreement for €50,000 was arrested. The lawsuit against the former Bosnian Serb army commander Ratko Mladić at the United Nations-backed International Criminal Tribunal for the Former Yugoslavia (ICTY) in The Hague has once again been postponed."
These are two of the news items from the daily newspapers that a Bosnian translator, who works for the members of the Swiss Liaison and Observation Team (LOT), summarises. We are in the common room of the Swiss LOT house in Mostar in Herzegovina.
Soldiers of the 27th Swiss contingent are stationed here, as the region remains a potential conflict zone. During the Bosnian war from 1992 to 1995, Mostar endured fighting between Croatian Bosniak and Serbian forces, and later between Croats and Bosniaks. Since then, the town has been divided.
After reviewing the events of the previous day, assigning jobs for the day and looking at the current meeting schedule, commander Claudio Wiederkehr reminds his team that the next plane to Switzerland is leaving soon, in case they have anything to send to their families.
The six male and two female soldiers live in six rooms, work six days a week, and do their own cooking and laundry. In the morning, a cleaning lady comes to clean the kitchen and bathroom. 
During their six-month mission, the soldiers get 20 days off, and do not have to wear their uniforms when they are off duty.
Getting a feel
The LOTs are the early warning system of EUFOR. This is how Carlo Kaufmann, field officer and highest-ranking Swiss army representative in Bosnia Herzegovina, describes the teams during his presentation at the EUFOR headquarters in Camp Butmir near Sarajevo. "We mark our presence, establish relationships, observe the situation and gather information."
To assess the situation, the Swiss talk to people from all walks of life. They speak to politicians, religious leaders, school principals, hospital directors, NGOs, human rights organisations, labour unions and many more. 
"We want to document what happens within our field of responsibility. It's like collecting tiny mosaic pieces. We are very active in the city of Mostar, but also visit remote villages," explains Wiederkehr. Most of the people feel positive about the mission. "Maybe one out of ten people is suspicious, wondering what we want from them."
According to the commander, the area around Mostar – with 49% Croats, 44% Bosniaks and just a few Serbs – is currently pretty calm. "Croats and Bosniaks live separately and leave each other alone." However, a EUFOR survey conducted in Bosnia Herzegovina shows that 80% of the 2,000 to 3,000 interviewees think the situation has deteriorated and is not stable. "This is the reason why EUFOR is still here."
Croatia's efforts to achieve autonomy can blow up at any time. Again and again, swastikas are sprayed on walls, or right-wing nationalists are seen doing the Hitler salute during football matches. The Croats accuse the Bosniaks of drifting towards Islamic extremism; the Bosnian Muslims find the 33-metre high cross on top of the Hum mountain towering over Mostar provoking.
School children in Mostar are taught in separate classes. It's not the teachers who have a problem with multi-ethnicity, but the parents. They don't want their children attending a school belonging to another ethnic group. "They have different teachers and they probably learn a different history," says soldier Yves Dätwyler.
Patrolling the streets
Once a week, a member of the team presents a certain topic. Today, Carmen Müller has ten minutes to talk about Islamism and radicalisation in Bosnia Herzegovina. Around 280 fighters from Bosnia Herzegovina have supposedly joined the jihad. She mentions Gornja Maoca in north-eastern Bosnia, which is known as a Salafist village. Bosnian security forces suspect that jihadists get recruited there.
After the meeting, it's time to go. We hop into a military Jeep. Müller and Dätwyler are in their camouflage clothes and beret, which makes them clearly recognisable as EUROFOR soldiers. They are both unarmed, but know how to use firearms. 
"Weapons and ammunition are locked up in the Swiss LOT building and are only there for self-defence", Wiederkehr emphasises. "If the situation were to worsen, we would be forced to evacuate the building. In the case of shootings in the city, we would have to put on our bulletproof vests and take a gun with us. That's never happened, so far."
There have been some critical incidents, such as in 2014 when parliament was set on fire and the elections had to be called off. Elections are due to be held again in 2018. Hardly anyone we have spoken to believes that they will really happen this time.
Encounter with a tiny mosaic piece
Patrolling the streets of Mostar, we bump into a German cyclist. He is on mission for a Christian NGO trying to spread the "Love to Jesus" in the Islamic world. Soldier Dätwyler makes a note and adds this encounter to his daily report.
Now it's time for a quick lunch in a small traditional restaurant in Mostar's picturesque old city with the famous old bridge – both UNESCO world heritage sites. When on patrol, the Swiss soldiers always eat out to mark their presence and support the local economy.
In the afternoon, we visit the job centre of canton Herzegovina Neretva. This is the seventh meeting with the director, Vlado Čuljak. We greet each other, exchange courtesies and drink coffee. 
Dätwyler and Müller lead the talks while Zijada, who lived in Germany during the war and now works as a translator for the Swiss LOT, translates the conversation.
Full of pride, Čuljak explains that the unemployment rate had dropped by 4 - 5% and that Eurowings will start flying to Mostar next summer. "It would be great if there were a direct flight to Switzerland too."
Then his mood changes and he seems almost frustrated when he talks about a Bosnian living in Switzerland, who has invested in Belgrade. 
"Why there, and not here? We have cheap labour and our political situation is pretty stable." Immediately afterwards though, he mentions political stagnation. "We haven't had elections for eight years. We don't have a city council, which means there is nobody to issue building permits. This is a problem."
After discussing these serious issues, the conversation gets lighter. Director Čuljak talks enthusiastically about his visit to the Munich Bierfest, his hunting cabin and going hunting with his dog. 
After about an hour we say goodbye. Both Dätwyler and Müller will include the information and observations of the day in their report, which will be sent to EUFOR. It's just a tiny mosaic piece in the overall view of the situation and atmosphere in the torn multi-ethnic state of Bosnia Herzegovina.
For the German, Italian and French version of the article check following link.