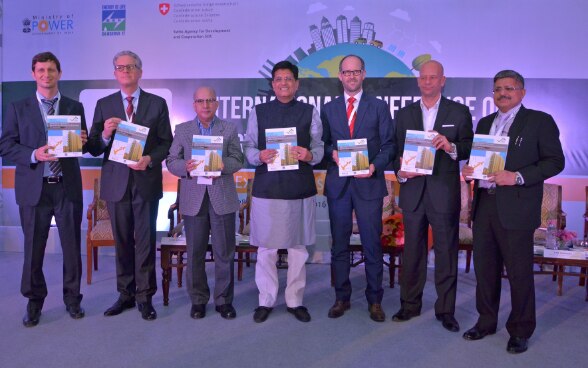 In his address, the Chief Guest, Hon'ble Minister Piyush Goyal said, "I am delighted that India and Switzerland have extended the existing MoU on building energy efficiency. Five years have gone by since the first phase. A lot of learning was involved in the process. We have opportunity to start fresh and start smart. Drawing on Switzerland's experience and expertise in the buildings sector, we have been jointly promoting energy efficient buildings in India through sharing of best practices. A lot needs to still be done in ensuring energy security, while mitigating the impact of climate change. With Switzerland, we could work together in making this planet a better place."
Minister Goyal also launched the Design Guidelines for Energy-Efficient Multi-Storey Residential Buildings (Warm and Humid Climates) during the inauguration of the conference. The objective of these design guidelines is to provide comprehensive information on how to design energy-efficient multi-storey residential buildings. These guidelines assume importance as projections done by NITI Aayog show that consumption in residential buildings is expected to increase ten-fold through 2047 and the residential sector will become the largest consumer of electricity in the country with a 39 per cent share of the total electricity consumed in 2047.
Concurring with the Minister, Mr. Daniel Ziegerer, Director of Cooperation, SDC, said, "Under BEEP, the governments of India and Switzerland have joined hands in promoting energy efficient building design in India. Based on more than three decades of Swiss experience and expertise, technical assistance was provided in the form of integrated design workshops for large building projects. The know-how provided to 18 projects (15 commercial and 3 residential), with a built-up area of over 1.4 million square meters, has shown that energy savings between 25 and 40 per cent can be achieved without significantly increasing the upfront investment costs. The knowledge and technologies are available today to build affordable, energy efficient buildings in India which will help to ensuring India's energy security in the future."
At the conference's inaugural session today, 11 such charrette projects were duly recognized and awarded, including the Jupiter Hospital in Pune; the World Trade Centre at the GIFT City in Gandhinagar; the Avantika University in Ujjain; and a residential project by Mahindra Lifespace Developers at Mahindra World City in Chennai. A poster exhibition of various activities undertaken in BEEP along with technological and knowledge products developed under BEEP were also launched at the event.
Mr. Raj Pal, Economic Adviser, MoP, and Mr. Gilles Roduit, Chargé d'affaires, Embassy of Switzerland in India, exchanged the extension of the MoU for the next BEEP phase.
The conference was inaugurated in the presence of Mr. Gilles Roduit, Chargé d'affaires, Embassy of Switzerland in India; Mr Bhagwati Prasad Pandey, Special Secretary and Director General (BEE), MoP; Mr. Yuri Afanasiev, UN Resident Coordinator & UNDP Resident Representative; Professor Thomas Stocker, Head of the Department of Climate and Environmental Physics, University of Bern; and Mr. Daniel Ziegerer, Director of Cooperation, Swiss Agency for Development Cooperation (SDC).
For more information, please contact:
Dr. Anand Shukla, Senior Thematic Advisor Energy, anand.shukla@eda.admin.ch