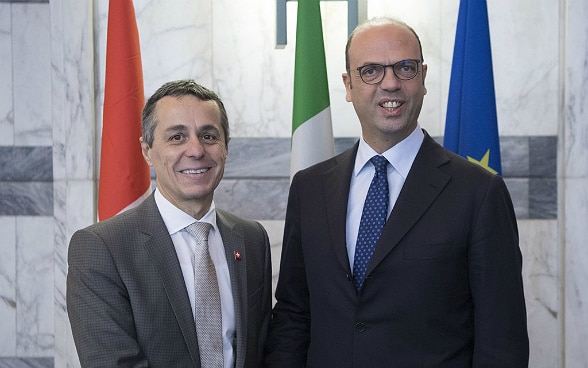 They reviewed arrangements for the upcoming signing of an agreement on the taxation of cross-border workers, covered issues that had already been resolved, and talked about matters that still need to be addressed. Mr Cassis informed Mr Alfano that one of the last conditions set by Italy, namely that the Federal Council approve new ordinances related to the initiative aimed at stopping mass immigration (applying the law implementing Art. 121 of the Federal Constitution) would be fulfilled by mid-December. The ball would then be in Italy's court, said Mr Cassis. The question of Swiss financial institutions' access to the Italian market was also touched on by Mr Cassis and Mr Alfano.
The two ministers also spoke about various other aspects of Swiss-Italian relations, which are extensive and diverse. They noted that progress had been made in recent years on a number of issues, including transport, energy and the environment. They also talked specifically about migration, an area where they agreed that cooperation between the two countries is particularly good. Mr Alfano thanked Switzerland for its solidarity with Italy. Mr Cassis emphasised that migration issues could only be resolved in a coordinated manner, in particular within the framework of the Schengen and Dublin Agreements.
Mr Cassis also enquired about Italy's priorities for its chairmanship of the Organization for Co-operation and Security in Europe in 2018. They also discussed relations between Switzerland and the European Union – just a few hours before European Commission President Jean-Claude Juncker was due to arrive in Switzerland.
Italy is Switzerland's fifth-largest trading partner, with a volume of trade of CHF 34 billion in 2016. Lombardy alone has trade volume with Switzerland that is as big as Japan's. Some 320,000 Italian citizens currently live in Switzerland, forming the largest group of foreign nationals in the country, while another 70,000 Italians cross the border each day to work in Switzerland. Over 50,000 Swiss nationals live in Italy. The close ties between the two countries are expressed in the bilateral meetings that regularly take place at different levels.
---
Further information:
Bilateral relations Switzerland-Italy

---
Address for enquiries:
Information FDFA
Bundeshaus West
CH-3003 Bern
Tel.: +41 58 462 31 53
Fax: +41 58 464 90 47
E-Mail: info@eda.admin.ch
---
Publisher: