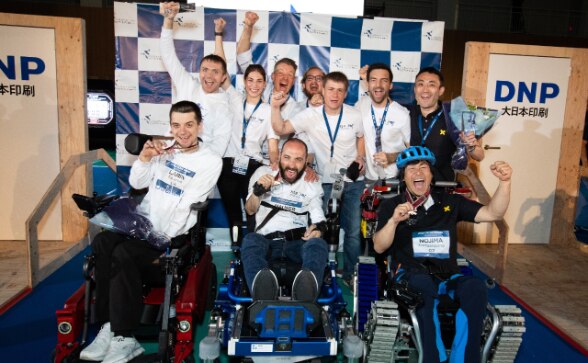 The Swiss-invented CYBATHLON is an international championship for people with disabilities supported by state-of-the-art technical assistance systems. An enthusiastic crowd of over 1200 visited the competition focusing on the wheelchair discipline in which team HSR Enhanced from the University of Applied Sciences Rapperswil won first place. Keio University's team Fortississimo won the bronze medal and trophy.
About 70 visitors -- six percent of the spectators -- were in wheelchairs. They cheered the eight teams consisting of technology developers and the Pilot with disabilities operating the powered wheelchair competing over everyday tasks.
The CYBATHLON Wheelchair Series marked the third station of the "Grand Tour of Switzerland" in Japan, a part of the Embassy's "Doors to Switzerland – Japan 2020" events and communication campaign towards the Tokyo 2020 Olympic and Paralympic Games. The CYBATHLON is an important partner of this campaign highlighting the pillar "Inclusiveness" that sheds light on Switzerland as a country of humanitarian tradition and diversity.
On the competition day, the Ambassador of Switzerland to Japan, Mr. Jean-François Paroz gave his greeting at the opening alongside the Mayor Norihiko Fukuda of Kawasaki City and Prof. Robert Riener of ETH Zurich, initiator of the CYBATHLON project, following the opening remarks by Mr. Osamitsu Yamada, the Chairperson of the CYBATHLON Wheelchair Series Japan 2019 Organizing Committee. At the closing, Mr. Paroz gave the silver medal and trophy to team Caterwil from Russia and helped pass on the Series flag (banner) to the Swiss CYBATHLON team to bring to their next Series in the disciplines of powered leg and arm in Karlsruhe, Germany.
Switzerland itself was also well presented at the CYBATHLON Wheelchair Series Japan 2019 with banners and giveaways from Doors to Switzerland, Presence Switzerland, Switzerland Tourism and the Swiss Chamber of Commerce and Industry in Japan SCCIJ alongside the CYBATHLON booth.
Prior to the race, the participating teams and partners were invited to the Ambassador's Residence for the official welcome party. The additional Swiss-ness was a treat for the international project.
Discover Swiss values of social inclusion and long-term rehabilitation in Kawasaki, Japan.