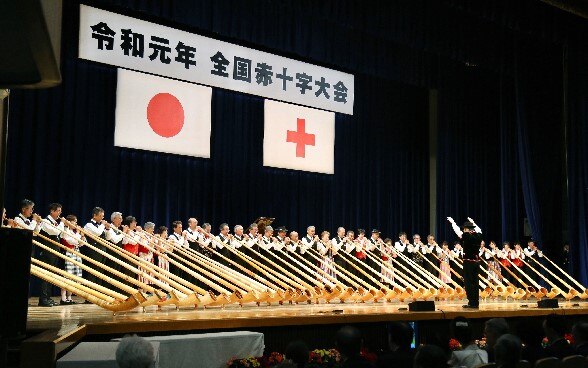 On the occasion of the 100th anniversary of the International Federation of Red Cross and Red Crescent Societies (IFRC) and the 70th anniversary of Geneva Convention, the Embassy of Switzerland in Japan wishes to emphasize the rich humanitarian traditions of Switzerland and Japan. To mark these special commemorations, the Embassy has collaborated with the Japanese Red Cross Society in the organization of a concert of Swiss traditional music which took place during the annual Recognition Ceremony at the Meiji Jingu Kaikan.
The Annual Meeting of the Japanese Red Cross Society was held on May 22 at Tokyo's Meiji Shrine in the presence of Honorary President Her Imperial Majesty Empress Masako, Her Imperial Highness Crown Princess Kiko, Princess Hanako, Princess Nobuko, Princess Hisako, President of Japanese Red Cross Society Mr. Tadateru Konoe, Ambassador Jean-François Paroz, and Dr. Yulia Gusynina Paroz. The International Committee of the Red Cross was represented by Mr. Jean-Arnaud Etchanchu, Cooperation Head of Sector for Asia and the Pacific. The audience of about 1900 people was constituted of important donators and contributors to the Red Cross Movement.
After the formal ceremony, the Empress exchanged some words in English with Mr. and Mrs. Ambassador. Subsequently, alphorn players from all over Japan, yodeler Ms. Keiko Ito, members of the Tokyo Jodel Gassho-dan club, and accordionist Mr. Shunsuke Oguchi performed a commemorative concert, treating attendees with traditional Swiss music.
More information about the Japanese Red Cross Society and its link to Switzerland is available on the site of the Grand Tour of Switzerland in Japan.