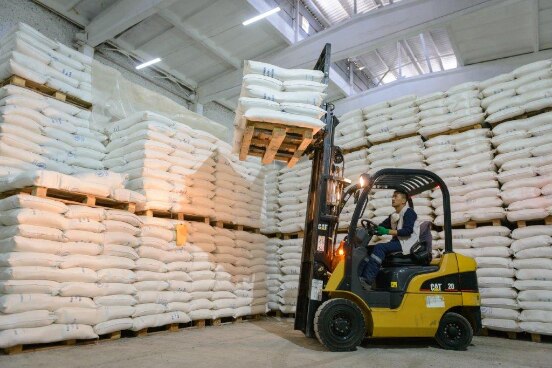 WFP will use the funds to meet the immediate food needs and support the livelihoods of 3,100 residents of the country's current social inpatient institutions and boarding schools for three months in the peak of COVID-19 outbreak. Residents of the social institutions – orphans, elderly and people with disabilities are the most severely affected by the current crisis. Emergency food assistance will be provided through WFP's long-term partnership framework with Ministry of Labour and Social Development and Ministry of Education and Science of the Kyrgyz Republic.
WFP supports the Kyrgyz Government's efforts to achieve the overall priority of Food Security for all, with specific focus on the vulnerable population. This contribution from the Government of Switzerland is critical to make sure that amidst the severe impact of the crisis no one is left behind, including the most disadvantaged people who lives in closed institutions.
Thanks to the Swiss contribution, WFP will provide each social inpatient institution and boarding school with a 3-month food ration of 75 kg of fortified wheat flour and 8 litres of vitamin-rich oil per person. Such assistance will ensure their access to balanced and nutritious meals, while giving them the possibility of prioritizing some of the available economic resources and use them for addressing other pressing needs such as health, sanitary and hygiene, protection.
As safety, protection, and dignity of the residents in the social institutions are of pivotal importance, WFP will ensure all precautionary measures during food delivery and handling.
"We would like to thank WFP, our long-standing partner for improving the livelihoods of the country's poorest populations, and the Government of Switzerland for their commitment to support the people of Kyrgyzstan. At this time of crisis, every effort counts to ensure tailored social support to the most vulnerable people," said Minister of Labour and Social Development, Ulugbek Kochkorov.
WFP, in response to the COVID-19 outbreak, is the United Nations (UN) agency leading the critical sectors of food security and logistics. In this role, WFP is also supporting emergency food distributions to the most vulnerable people across the country to cover their immediate food needs during the crisis.