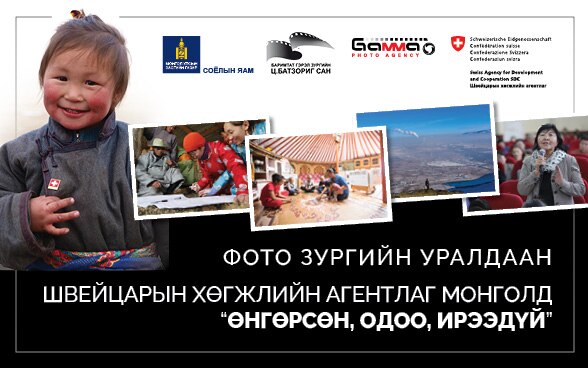 Over the years, the programme was expanded to include vocational education and training, as well as governance. Since 2018, projects have taken into consideration an urban approach, including some new projects dedicated to urban development based on the country's specific challenges. New programs allowed Switzerland to bring in expertise in climate change adaptation/mitigation and environmental sustainability.
Switzerland will phase out its bilateral development cooperation in several countries, including Mongolia, by mid-2024. Therefore to conclude development work done in Mongolia and promote SDGs along with Vision 2050, SDC will organise a photo competition with a following exhibition.
"Past-Present-Future of SDC in Mongolia" is a photo competition aimed at involving young artists to promote development work done through the Swiss Agency for Development and Cooperation (SDC) and the Sustainable Development Goals (SDGs) in Mongolia through photography. It is a joint initiative of the Ministry of Culture, the Swiss Agency for Development and Cooperation and the Mongolian University of Culture and Art. Sixty finalists will participate in the award ceremony to take place in Ulaanbaatar in August 2023. Three winners will be selected by jury and experts including representatives from the Gamma Agency, the Ministry of Culture, Mongolian University of Culture and Art and SDC. Photos of preselected finalists will be featured in a high-end catalogue and exhibited throughout Mongolia.
Participation
This photo competition is open to youth from 18-34 years of age across Mongolia.