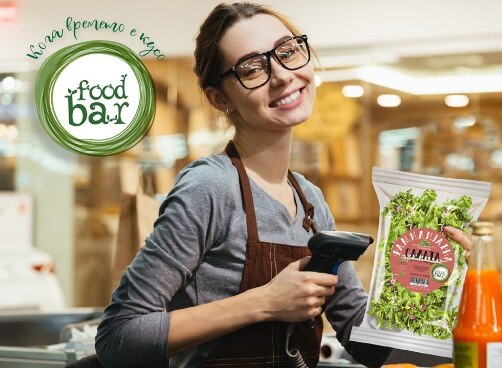 As life became more hectic, particularly in big cities, cooking and eating habits changed. Agile and creative agribusinesses tailor products to cater to changes in consumer lifestyles, behaviours, and needs.
Food Bar is the perfect example of creative small business that followed the consumer demands.  Founded in 2016, with a niche offering of fresh, cleaned, cut, and packed salads under the motto For when time is short. They produce healthy meals on-the-go for busy urban individuals and families. With eight employees and around 30 local fresh fruit and vegetable producers as suppliers, Food Bar was the first company to start the fresh-cut industry in North Macedonia. This industry was only recently introduced in North Macedonia's biggest supermarket chains with imported products from Greece. As consumers' demand for the products increased, Food Bar decided to pilot this business and started selling locally sourced fresh-cut products competing with imports. 
After a few years of building up its brand name in the domestic market, Food Bar saw an opportunity to grow within and outside the country—in the HORECA (Hotel/Restaurant/Catering) sector in North Macedonia, as well as supermarket chains of the neighbouring Balkan countries. "The market for fresh products in the Balkans is growing. Food buyers are looking for added value from the products, and salads are no exception to this," shares Kiril Ancevski, Food Bar owner and manager. "Our vision is to become the market creator and the biggest provider of fresh-cut packed vegetables and ready-to-go salads in the region," Ancevski adds.
But, to grow their business and start exporting, Food Bar needed equipment for packaging under inert gas, also known as modified atmosphere packaging (MAP), as well as expertise to implement international food safety standards needed to go beyond the country borders. To achieve this mid-term strategy, Food Bar approached the Swiss Increasing Market Employability Program – IME.
With IME's support, the company installed the new packaging machine in March 2020. "Thanks to the new machine that we purchased with IME co-funding, our products can now last longer on supermarket shelves, while retaining their nutrients and freshness," adds Ancevski. This sleek and modern packaging now offers standardized fresh vegetables for international fast-food and supermarket chains.
The new machine enabled Food Bar to be much more creative and to answer to clients' specific needs with new products. As a result of the increased volume of work, in just nine months from March – December 2020, Food Bar has employed 13 new fulltime employees in the administration, production and distribution departments. Additionally, they started exporting products in supermarket chains and the HORECA sector in Kosovo.
Despite the initial drop of 30% in sales during March and April 2020 - mainly because of COVID-19 affected shutdown of the HORECA sector, Food Bar has since noticed a rise in their sales and profit. In the first six months of 2020 only, they managed to achieve the same volume of sales that they generated for the whole year of 2019. They closed 2020 with 100% increase in sales compared to same time last year.
The Swiss Increasing Market Employability Programme – IME offers small to medium (SMEs) agribusinesses support through the Opportunity Fund, an instrument aimed to catalyse businesses' growth by co-investing in their innovative ideas and products.
In 2020, a total of nine small to medium sized agribusinesses have received support through IME's Opportunity Fund instrument to invest in innovative technologies in the production processes, diversifying their offer, and reaching to new markets abroad. The Swiss Increasing Market Employability Programme will continue supporting the agribusiness sector in North Macedonia to assist companies to meet EU and Swiss standards, to increase competitiveness on the domestic and export markets, which will ultimately lead to opening more jobs in the sector, especially in the rural areas. Furthermore, while working with sector associations, relevant public institutions and business service providers, IME contributes for a more supporting business ecosystem for organic and conventional agri-producers. For more information: www.ime.org.mk