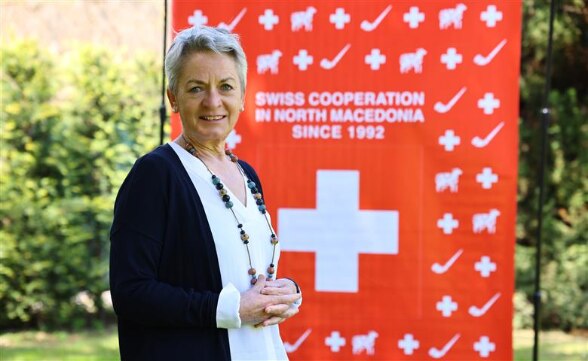 Switzerland has been a great friend of North Macedonia since 1992 and the largest bilateral donor in the past decade. Can you please explain what is unique about the Swiss approach towards development?
Switzerland is an honest and reliable partner supporting the political, social and economic transition of North Macedonia since 1992. We add value by sharing expertise and knowledge, funds and a constructive engagement in various programme domains. Through our Cooperation Programme, we deploy Swiss know-how and follow a programmatic approach, with a focus on long term results. We do not provide copy-paste solutions, but rather share elements of the Swiss experience and support the partner country to adapt them to the local context and national demands and needs. We work with a variety of partners to strengthen state and non-governmental institutions hence supporting the reforms leading to a socially inclusive democracy and market economy, while ensuring sound governance of natural resources. In partnership with civil society, the private sector, and government, we helped to achieve effective results and notable progress in many areas. Today, Switzerland remains committed to continue to deepen its relationship with North Macedonia by furthering its diplomatic, development and cultural activities.
What are the plans for future cooperation with North Macedonia?
I am pleased to announce that this year we launch a new 4-year Swiss Cooperation Programme 2021-2024. Our programme is aligned with North Macedonia's reform processes to continue the Euro-Atlantic integration and its efforts to achieve the Sustainable Development Goals. The new Cooperation Programme focuses on supporting the country in further political, economic and environmental reforms leading to more transparent, accountable and participatory political and economic governance. However, I would like to stress that we are not changing the core of our Cooperation programme every four years. Making difference and reaching systemic impact takes time. In order to achieve tangible results in each field we must work persistently towards capacitating people, building a supportive environment, and bring innovative approaches. Therefore, for this new Cooperation Programme, just like in the past, we build upon the experiences and achievements from the past.
Can you share some of the most striking achievements from the past years?

Switzerland has been actively supporting the country in the areas of democratic governance, sustainable economic development, and environment and sustainable public utility services. There are a number of examples that we are proud of from each of these three domains, as our primarily modus operandi is to work on systemic changes. One of the most evident examples of systemic intervention is the establishment of the Parliamentary Institute. This Institute improved the Parliament's law-making capabilities and thus supported the further development of Parliament as an efficient, transparent and autonomous legislative body. The success of our long-term systematic approach can also be seen in our support to the start-up community where we focus on building a strong ecosystem to support start-ups to thrive, rather than only working with individual organizations and start-up companies. Sustainable use and protection of natural resources and reliable public utilities services are another priority that we work on. One of the biggest achievements in this area is the restoration of Lake Prespa Ecosystem, which fundamentally contributed to the improvement of its ecological resilience. However, challenging times require adjustments within the existing areas of work to ensure alignment with new contextual developments within North Macedonia and the world.
Considering the contextual developments, what are the adjustments in the Cooperation Programme?

The contextual developments call for support in designing measures to fight corruption and to support the emergence of a new generation of (young) political actors, including female leaders. Additionally, the context change has prompted us to focus our support within the sustainable economic development field to focus on digitalization of the economy, addressing the grey economy, increasing international competitiveness and regional economic linkages, involving the private, sector in economic policymaking, and shifting the focus towards decent jobs. A key priority for the Swiss support is enhancing the involvement of the private sector in vocational education and training. The goal of the Swiss supported interventions in sustainable economic development is directly contributing to the creation of more formal and decent jobs. Finally, supporting the management and preservation of natural resources in North Macedonia is of highest importance to the Swiss Cooperation Programme. We will accentuate environmental policy support, knowledge generation, capacity development and technical assistance as well as public awareness-raising. Swiss grants for infrastructure investments, will aim at improving operational performance of public utilities and introducing new and innovative technologies.
Switzerland is famous for its successful vocational education and training system which is an important contributor to the country's economic success, and is considered a gold standard. Can you tell us more of the Swiss contributions in North Macedonia, in regards to the upcoming VET strategy?
When we talk about vocational education in Switzerland, we must stress that its success lies in the strong link between the private sector and academia. We are sharing the best practices with North Macedonia by supporting the Government to reform fundamentally the vocational skills development system in the country by bringing the private sector closer to education. We strongly believe that a better match between offer and demand of skills and therefore the engagement of the private sector in the vocational education and training is vital both for producing a qualified workforce, and for having private businesses competitive at the international markets. Ultimately, our support leads to more employment of young women and men thus advance the economic prosperity of the country.
In recent years we have witnessed a bigger commitment on social inclusion in the Swiss support, can you elaborate more on the increased prioritization of this topic in the cooperation?

The universal principles of leaving no one behind and do-no-harm are core elements of the whole Swiss portfolio. In the work here through the decades, we identified the need to focus more on social inclusion of vulnerable groups as a crucial element for further inclusive development of North Macedonia. In line with the previous activities, the new Swiss Cooperation Programme continues to mainstream measures to empower women, youth and groups left behind to strengthen their roles and increase their presence in governance, politics and the economy. During the previous cooperation programme, using the modality of citizen participation, we implemented together with the government over 20 infrastructure projects with focus on social inclusion. Some examples are: establishing centers for rehabilitation of people with disabilities to enter the labor market, introducing new social services focusing on care for elderly, improving conditions for children with special needs in kindergartens, dormitory capacities with psycho-social support for youth and victims of family violence etc. 
An additional focus lays on the risks emanating from climate change, environmental degradation and natural hazards, which are identified priority for North Macedonia. Switzerland will assist in realizing measures to lower these risks and to strengthen the resilience of communities in North Macedonia.
Another new trend is digitalization and increased use of digital technologies; can you elaborate more how the new Cooperation Programme aims to tackle this challenge?

Digitalization is a key priority theme for the Swiss Cooperation Programme 2021-2024, that will be mainstreamed throughout the portfolio. Digitalization is seen as a tool to support a more effective achievement of results. This tool can be utilized to increase competence, accountability and transparency in the enabling environment, the private businesses, the value chains and the economy in general. The introduction of digital technologies, the availability of sound digital data and the development of digital skills have the potential to significantly improve institutional transparency and access to services; to develop smart policies and sustainable, human rights-based services; and to contribute to increased productivity and economic growth. Partnerships with the private sector, civil society and the public administration will be critical to ensure effectiveness and relevance of the new digital instruments.
Having in mind that you have lived and worked in our country for five years and had a chance to see how things work here, what in your opinion are the biggest challenges for the country moving forward?
I have genuinely enjoyed my stay here for the past five years. As a lover of nature and outdoor activities, many of my experiences here have been pleasant because North Macedonia has so much to offer as outdoor adventure experiences. What has been quite unpleasant for me personally is the environmental and waste management problem. The negative human footprint in the nature weakens the appeal for the country that has been striving to develop and promote adventure tourism. However, this issue is not solely the responsibility of the central and local governments, but as well of the production and packaging industry and it also represents a behavioral challenge in the society. The public authorities, local companies and people living in North Macedonia all need to take responsibility and strive to protect the environment because this is one of the biggest assets of the country.
Another complex issue that the country faces is corruption, and as any other complex problem, there is no easy solution. However, I would like to point that this is also cultural and behavioral challenge, and again it is people that need to take their part of the responsibility to create a society free of corruption. Every person in the society is responsible for his or her own actions, behavior, performance and decisions, and make a personal effort to increases the commitment towards a society without corruption
Another complex issue that the country faces is corruption, and as any other complex problem, there is no easy solution. However, I would like to point that this is also cultural and behavioral challenge, and again it is people that need to take full responsibility and create a society free of corruption. Every person in the society is responsible for his or her own actions, behavior, performance and decisions, and make a personal effort to increases the commitment towards a society without corruption.