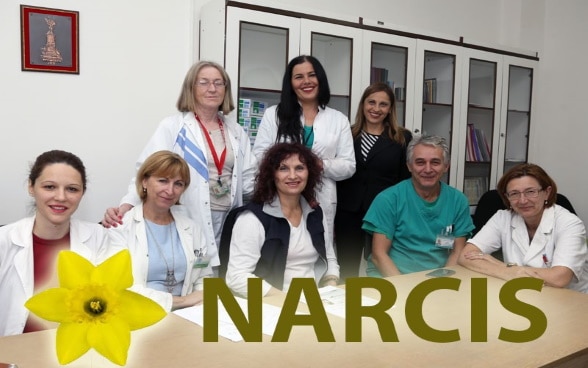 "I visit our Counselling Centre twice a week. When I get a smile and a nice word from the employees, I already feel better and have more energy for recovery", says Zoran Djordjević. The Association of Health Workers of the Rasina District has provided health services to more than 600 people being affected by malignant disease, over the last 12 months.
 "Cancer does not affect the actual sufferer alone, but the entire family, friends and relatives. They all would like to know what they can do to help a loved one after receiving diagnose. In this regard, the Centre also supported around 1500 family members", stressed Dr. Zoran Gajić, head of the Oncology Department in Kruševac Hospital.
An additional service offered by the Counselling Centre is the possibility for affected individuals to meet a trained psychologist, nutritionist, social worker and physiotherapist, who are not included into standard chemotherapy treatment in the Hospital.
"Having in mind the fact that this type of Centre exists only in Belgrade, and that beneficiaries from the nearby municipalities Aleksandrovac, Ćićevac, Varvarin and Trstenik also use the Centre services, we can freely say that with this project we have enabled the improvement of health services at a regional level" said Sandra Gogić, President of the Association of Health Workers of Rasina District.
Sustainability has been enhanced with the City of Kruševac allocation of budget funds for the continued functioning of the Counselling Centre in 2020, while other neighbouring local authorities are currently considering the best way to finance the project.
Within the Swiss PRO Programme the support of the Swiss Government worth 350,000 EUR was granted to 26 civil society organisations (CSOs), out of which "Narcissus" was one, for the purpose of conducting "new ideas fit for communities", i.e. socially innovative projects designed for vulnerable groups. 
More information about all 26 awarded CSO projects can be found on the Public Call Fact Sheet.
The Government of Switzerland is supporting the Swiss PRO Programme to the tune of 6.2 million EUR from 2018 to 2021.