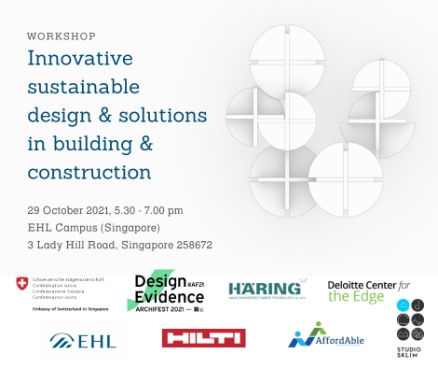 The embassy is co-organising a workshop on "Innovative sustainable design and solutions in building and construction" with Archifest, Deloitte Centre for the Edge, Studio SKLIM, Häring Timber Technology, Affordable Abodes, Hilti & EHL Campus (Singapore). The event will be held in conjunction with Archifest 2021, and will be hosted at the EHL Campus (Singapore).
We are living at the cusp of no-return with regards to climate change. To avert acceleration of climate disasters, significant coordinated global efforts are needed. The building and construction industry contributes to about 40% of the global CO2 emissions. With over 50% of the global population currently living in cities, rising to over an estimated 70% by 2050, the demand for construction will not abate.
How can we reduce the overall carbon footprint of the building and construction industry over the coming decades?
Join us in exploring all domains of sustainable design and solutions in the building and construction industry! These include i.a. building material, circularity and re-use, design for reuse, modular design, and green financing. We invite designers, material scientists, architects, green financiers, and enthusiasts of this topic to participate. The conversation outcomes will ultimately lead to a physical manifestation in the form of a pavilion. To learn about innovative designs and technology solutions, state-of-the-art sustainable building materials, and to discover opportunities to partner up for the pop-up pavilion project in Singapore, sign up for the workshop now!
Register here
Date and time: 29 October (Fri), 5:30 – 7.30 PM