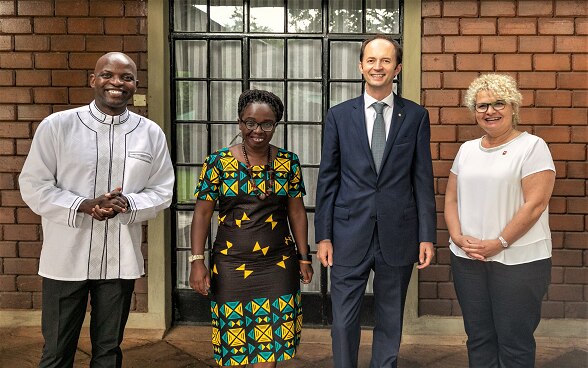 The book documents the life and history of Rose Chibambo, a prominent politician in pre- and post-independent Malawi.
Rose Chibambo organised Malawian women in their political fight against British colonial rule alongside her menfolk in the push for independence. She was arrested in 1959, two days after giving birth to a girl.
After independence in 1964, Rose Chibambo was the first woman minister in the new cabinet of Dr. Hastings Banda. When she fell out with Dr. Banda she was forced into exile for thirty years, returning after the restoration of democracy.
Rose Chibambo is a special woman in Malawi's history. Her face appears on the country's K200 banknote. She beat all odds to leave a mark on the country's political landscape.
"The book contains Rose Chibambo's story in her own words. But that is not all. The book also contextualises that story by giving information about that particular historic period," said the author Timwa Lipenga.
Lipenga said she interviewed Chibambo herself, but also took time to interview a number of her relatives and friends.
She said: "The more I read about Rose Chibambo, the more I was stunned that I had not come across her name even though I studied Malawian history as an undergraduate."
Publisher, Open Logos Culture's Muthi Michael Etter Phoya said Lipenga's debut book tells a compelling story of Rose Chibambo from surviving a difficult birth to forging a women's movement in Malawi.
"In a series of intimate conversations with Lipenga, Chibambo traces the origins of her family, her culture, her commitment to building a post-colonial nation—and the heavy price she paid for it," he said.
As noted by Phoya, the book also includes additional context on the history, culture and society of Malawi through speeches, songs, and newspaper articles. It also has recollections from Chibambo's children, including one daughter who was imprisoned with Chibambo. There are also archival photographs that bring to life the struggle for an independent Malawi.
Speaking during the launch of the book, Switzerland Ambassador to Malawi, H.E. Mr. Niculin Jäger said "Rose Chibambo was one of the female pillars and champion of human rights and sustainable peace in Malawi.
"No doubt, the time when she entered politics, the terrain was too rough to navigate for most women. Few in the end made the journey, perceiving that their male colleagues will try to undermine them."
"But despite the challenges she faced, Rose stood up and lived up to her convictions, fighting for self-determination, shaping the history of her country."
"As we launch this book tonight – I hope this publication will inspire you who are here present and the young people out there so that they become aware of their history and are focused and are more aware of the challenges facing this beautiful country, so that they are ready to take Malawi to greater heights," said Ambassador Jäger.