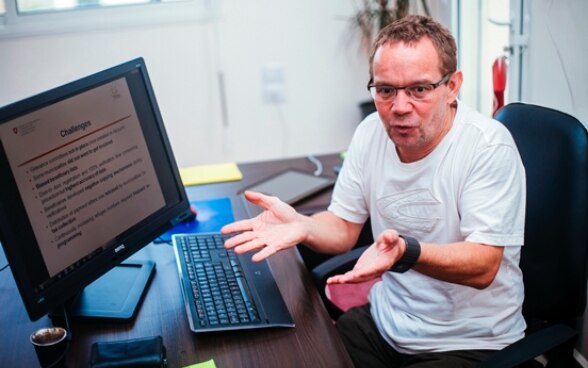 Since the Syria crisis began, Lebanon has been a host country for nearly 1.2 million Syrian refugees. That is a quarter of this small country's population. Hundreds of thousands of refugees have been living with Lebanese host families in the northern Akkar District, which is one of the poorest regions of Lebanon. An SDC "Cash for Hosting" project supported more than 2,800 Lebanese families from 2012 to 2014. Depending on the number of guests they hosted, each family received between USD 100 and 150 per month. Andreas Deuble, "cash officer" from the Swiss Humanitarian Aid Unit (SHA), takes a retrospective look.
The SDC supported more than 2800 families for two years in Lebanon. Would you call this a big project?
It was a rather big project. But I believe that quality is more important than quantity. At the beginning we only supported the Akroum area but then we expanded the project to the neighbouring Wadi Khaled area. This decision created some tensions with some municipalities in the area, because there were many more families who needed our support.
How did the families – both Lebanese and Syrian – respond to the SDC's support?
They were obviously very happy. Although they were sad when we told them that we would have to stop the project, they also understood that we could not continue to provide support indefinitely.
Didn't you think that the payments could be sustainable?
We were clear since the beginning that a cash project is an emergency project which has to end at a certain point. It is intended to support the people at the beginning of an emergency. It is therefore not sustainable and more long-term oriented projects must take over. The "Cash for Hosting" project was the right project at the right time. But I am convinced that we stopped at exactly the right moment. When the number of refugees had increased twentyfold we decided to move on to more sustainable projects. For instance, the SDC rehabilitated Lebanese schools that provide education to Syrian refugee children alongside Lebanese children.
Were the Lebanese host families and the Syrian refugees they welcomed connected in any way?
It differed from one area to another. In Wadi Khaled, for example, most of the refugees were connected to their Lebanese hosts through family or business relationships. Out of 1,900 Lebanese families we supported in Wadi Khaled, only six asked the refugees to leave after a while as they could no longer host them. In Akroum region, numerous families took in people they had not even known before. This shows that there is a strong tradition of hospitality in the area.
Was there a feeling of resentment towards the Syrian refugees in the Lebanese community?
I never felt a feeling of resentment to speak of. Of course, you could hear people say that Syrians work for lower wages and take jobs away from Lebanese people. But the refugees usually do jobs that the Lebanese do not want to do.
The SDC distributed a lot of money in its "Cash for Hosting" project: about CHF 9.3 million. Did you notice envy among the families?
Not really. When tensions flared occasionally it was because of anger expressed by potential Lebanese hosting families towards the local authorities if they were not included in the project. They would berate the municipality and even our own staff for not adding them to the list of beneficiaries. But this happened only very occasionally.