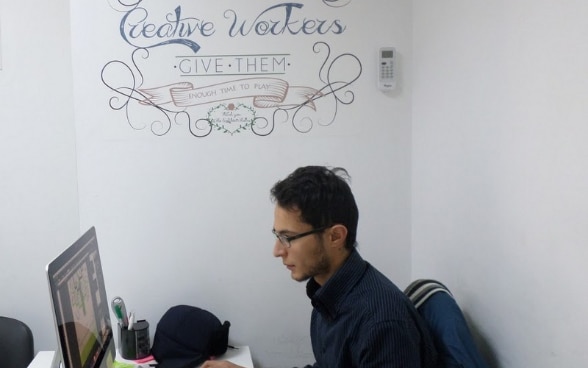 Youth unemployment remains a major problem for Tunisia, threatening social cohesion and the process of democratic transition. In the most disadvantaged governorates and among certain groups, including young graduates and women, unemployment rates are almost 50%.
Certain sectors of the economy do not offer enough jobs, but there is another challenge: the mismatch between jobseekers and vacancies. Young graduates often lack the qualifications required by employers. The SDC is addressing this problem with a project to strengthen vocational education and training in Tunisia.
Reducing the unemployment rate
This project comes in addition to SDC's parallel initiatives to create jobs. The economic development of the Maghreb countries is one of the three areas of activity in Switzerland's 2011-2016 programme for North Africa.
For the vocational education and training project in Tunisia, three priority objectives have been defined:
to reduce the rate of unemployment by improving the employability and entrepreneurship of young graduates
to contribute to improving the image of vocational training and education in Tunisia
to strengthen partnerships and synergies between public and private partners in order to align training programmes with the demands of the labour market
Implemented by the organisation Swisscontact under the auspices of the Tunisian Ministry of Vocational Training and Employment (MFPE), the project aims to help transform a vocational training and education system that is unattractive and inadequately geared towards the needs of the private sector.
Improving teaching and offering specialisations
Young Tunisians are being offered numerous opportunities to upgrade their skills and enter the job market. Some young people are invited to attend practice-based technical courses in existing training centres. In this context, the project is working to improve the quality of teaching. Since 2012, some 70 company trainers have been trained in innovative teaching methods.
In addition, 315 Tunisians (of whom 66% were women) from disadvantaged regions in the country were able to take advantage of one-off training sessions to either start or develop high value-added activities. Available specialisations include farming quail, pruning vines and agricultural project management techniques. The training sessions aim to secure immediate results, strengthen the local economy and create micro-businesses.
From theory to practice
On their side, university graduates who intend to pursue a business education have the opportunity to be recruited by one of the two "practice firms" – ELAN and Pro Evolution Skills – that have been created in Tunisia to date as part of the SDC project. These firms function like real companies but only market virtual products and services within a global trading network.
The idea is to offer young people a real-life working experience in order for them to develop the necessary social and professional skills to help them find a job in the future, such as working in a team, punctuality, practical knowledge of the business world, languages, etc. "At ELAN, I discovered working procedures and methods that are not taught at university but are nevertheless crucial in order to confidently get ahead in the world of work ", says Ameni Ben Rejeb, 22, who was hired in September 2014 by an industrial company in the southern suburbs of Tunis. Khaled Ben Salem, 25, says he had a similar realisation: "Crowned with my graduate degree, I imagined working life to be a matter of course. In fact, my time at Pro Evolution Skills taught me to better organise my work schedule, respect deadlines and manage relations with clients and their multiple and incessant demands for changes..."
Swiss expertise
As with its dual approach to vocational training and education, Switzerland can share its long-standing experience in the area of virtual companies. The organisation Helvartis, headquartered in Chaux-de-Fonds, manages a network of around 60 such bodies in Switzerland that were inspired by pilot projects already launched in the mid-20th century. In collaboration with the SDC, Swisscontact, the MFPE and Confederation of Tunisian Citizen Entreprises (CONECT), Helvartis has contributed to launching and certifying the ELAN and Pro Evolution Skills practice firms in the capital, Tunis. Since March 2014, these firms have recruited and trained 125 young graduates, two-thirds of whom are women. In addition to receiving training and a work certificate at the end of their temporary placement, employees of ELAN and Pro Evolution Skills are given a small salary.
The principle is that "sponsor companies" support practice firms by allowing them to use their product catalogues and company logos. In exchange, they have highly qualified business professionals on hand who are already familiar with the rules of the corporate world.
A job-placement rate of 84% for former ELAN and Pro Evolution Skills employees confirms the added value of these temporary jobs which also serve to guide the young people psychologically. "My time at Pro Evolution Skills helped me regain certain things that I had lost, such as self-confidence and my career aspirations", says Abir Allouch, recruited later on as a graphic designer for a communications company.
In an economy with a booming service sector such as Tunisia's, where young graduates enter the job market in their thousands every year, practice firms fill a strategic vacuum in the training system. New companies are expected to join and "compete" with ELAN and Pro Evolution Skills in the medium term.
The SDC project extended until 2020 will run in four new regions of the country. The main beneficiaries are young people from the disadvantaged governorates of Kasserine, Sidi Bouzid, Siliana, Medenine and Tataouine, and coastal areas affected by the tourism crisis in the wake of the terrorist attacks in Tunisia in 2015 (Sousse and Mahdia).