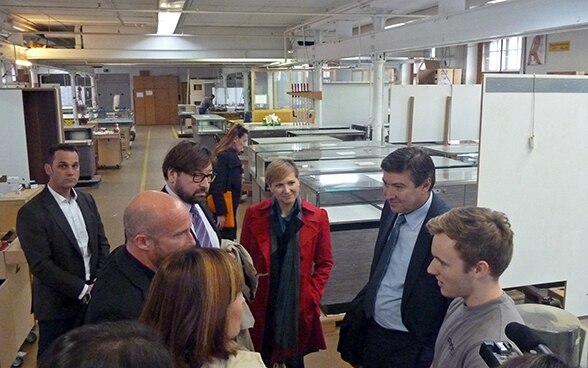 Vedran Mornar, Croatia's Minister for Science, Education and Sport, will gain a closer understanding of the vocational and professional education and training (VPET) system in Switzerland. From 19 to 22 October he is visiting a range of businesses which train apprentices and higher education institutions which offer vocational courses.
The Croatian government is particularly interested in specialist training in the health professions. Mr Mornar is taking a close look at training in the caring professions and the possibility of partnerships with higher education institutions in the health field. He is also receiving a detailed introduction to VPET programmes in the pharmaceutical industry. Under the agreement, Switzerland is financing the development of 15 university research partnerships for the duration of the programme.
VPET in craft professions will also be the subject of the minister's visit. He will talk to apprentices about the practical aspects of training in technical professions, mechanics and woodworking in VET centres in Lucerne, Bern and Olten.
Swiss expertise will help boost Croatia as a centre for research and improve its international connections. Funding and input on course content are helping to modernise the Croatian VPET system, which is looking to adapt courses to changing economic needs.
The purpose of the enlargement contribution is to reduce economic and social disparities within the EU. It is a sign of solidarity and responsibility, and fosters stability and economic development in Croatia. Moreover, the Swiss economy benefits from access to the EU's extended internal market.
The enlargement contribution is part of the Swiss Confederation's cooperation with the countries of Eastern Europe, which includes transition cooperation. Whereas the contribution to EU enlargement provides support to the new EU member states, transition cooperation promotes the rule of law, democracy and the social market economy in selected non-EU countries in the Western Balkans and the former Soviet Union.