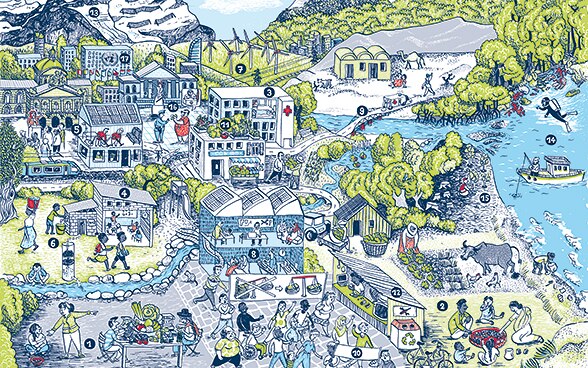 The 2030 Agenda replaces the Millennium Development Goals and lists 17 Sustainable Development Goals which form a common guide to the fight against poverty, inequality and environmental degradation. The goals apply to all countries, including Switzerland. In addition to being universal, the new Agenda incorporates social, economic and environmental concerns.  It thus stresses that a life of dignity for all is only possible when all countries act together and when social and economic growth does not come at the expense of the environment. 
Switzerland drives the new goals forward
 Convinced that shared goals can make a difference, Switzerland worked hard to drive the new goals forward in the three-year negotiating process. The two main speakers, UN Secretary-General Ban Ki-moon and Federal Councillor Didier Burkhalter, emphasise the importance of the Agenda – for the world and for Switzerland. 
Switzerland was particularly involved in developing the goal on water, an area in which it was able to contribute knowledge and a great many years of experience. In Chad in central Africa, Switzerland is implementing a project to restore river weirs, which will lead to a more sustainable use of resources.  The project already combines economy, ecology and social responsibility, the three dimensions of sustainable development. And since every goal also applies to Switzerland, the discussion will show how Switzerland itself intends to implement the water goal. 
We invite you to join us in the debate on the importance of this new agenda for Switzerland and the world. The conference will be opened by UN Secretary-General Ban Ki-moon and Federal Councillor Didier Burkhalter. 
Registration
The registration deadline has expired. The conference is fully booked.
Kindly consider your registration as binding. No confirmation of registration will be sent. 
More information about the conference and registering is available here.