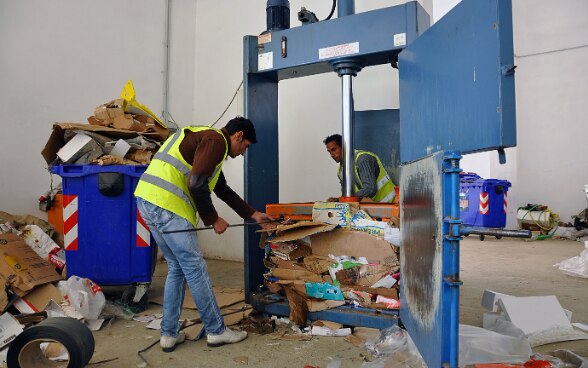 Waste sorting is very well organised in Switzerland. Towns and communes are easily able to manage the growing volumes of waste, and thereby help protect the environment and its resources. Rubbish bins come in different colours depending on the type of waste and are naturally integrated into the landscape.  Switzerland's experience is thus helping Albania manage its growing volumes of waste.
Ever-increasing amounts of waste in Albania
After the end of the dictatorship in 1991, consumption levels rose rapidly in Albania, which naturally resulted in much larger volumes of waste. Urgent action was needed. With the FDFA's support, municipalities in several regions of the country developed waste management strategies and funding models.
This policy also benefits entrepreneurs like Florian Borshi, who after several years abroad has been charged by the Albanian government with managing the treatment of household waste in the city of Skhodra. Thanks to increasing public willingness to sort waste and government efforts to supply the necessary infrastructure and resources, waste and recycling companies are now a thriving industry in Albania, providing many job opportunities for low-skilled or unskilled workers.
Recycling pays
Recycling benefits both the general public, who increasingly enjoy waste-free fields and meadows as well as better soil and water quality, and the Albanian economy as a whole. A waste treatment market has sprung up, providing profitable opportunities for private companies.  However, the recycling policy can only succeed if municipal authorities have the necessary skills and expertise to play their part in waste management.  In many parts of the country, municipalities lack the necessary expertise and capacity to do so. The SDC's Decentralisation and Local Development Project (DLDP) aims to address this gap.
The programme advises municipalities on how to provide services in an efficient and environmentally friendly way that is tailored to the needs of the public. Between 2007 and 2012, around 112,000 residents of the municipalities of Shkodra and Lezha benefited from these services.  One advantage of the waste management policy is that residents are encouraged to become actively involved in change: by sorting their rubbish properly, they make a visible and tangible contribution to bringing about positive change.  Furthermore, the economic value of waste also safeguards the interests of private companies that have the required expertise.  The waste management strategy has given birth to a strong alliance among local actors who are determined to wage war on Albania's mountains of waste.