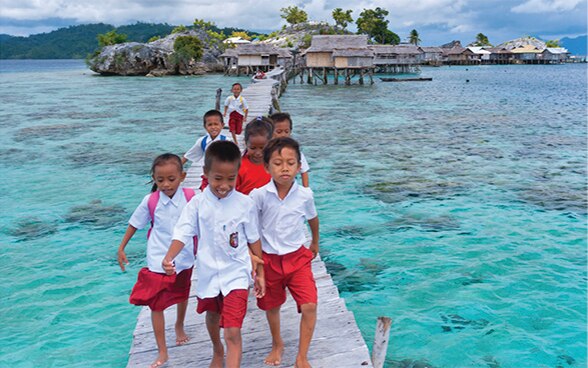 UNESCO's latest Global Education Monitoring Report, which was published on 6 September 2016, delivers a clear message: education is a key factor in achieving truly sustainable development. Sustainable development represents a broad vision in which societies take responsibility for integrating their underprivileged members. It includes social, economic and environmental dimensions. The goal of universal access to quality education plays a fundamental role in this regard. Not only does education rely on progress in other fields of development (e.g. healthcare, hygiene, employment and the environment), it also contributes directly to these fields. 
This transversal view of education conveyed by the report corresponds to the approach taken by the 2030 Agenda for Sustainable Development, which the international community adopted in September 2015. The SDC believes in it fully. The new "Education Strategy" that it is about to adopt aims to continue strengthening the link between education and the other vectors of development. 
Environmental awareness and reducing inequality
The UNESCO report is called "Education for people and planet". One of its recommendations is for school curricula to put more emphasis on climate change and its effects and on the necessary energy transition. This will help people gain a better understanding and awareness of environmental challenges. The report, which contains a vast amount of useful information, provides an example of how this can be done. It describes a preschool programme in Botswana that teaches children about nature. The programme is based on the traditional knowledge of the indigenous San people: the students' parents and other members of the community contributed to the curriculum. In addition, the classes are taught in the local language, which makes the learning process much easier. 
Reducing inequality is another major challenge. Here again, education is a key factor. Quality, universal education leads to a more egalitarian society. It helps limit the risk of violence and conflict, especially in fragile contexts (i.e. crisis-prone countries, or countries with an underdeveloped institutional framework). Conversely, greater gender equality can spark interest in school, as shown in a study on elected officials carried out in India. In that country's 16 largest states, a 10% increase in the number of women being elected raised the percentage of students completing primary school by 6%. Countless young girls (and their parents) will draw inspiration from these women, who are willing to fight for what they believe in. 
Lifelong learning
Education does not only take place in school. The report also touches on the widespread belief today that education is a lifelong learning process. According to this belief, core skills (reading, writing, maths and using the internet – a necessity in today's world) are not learned only at school. Alternative educational approaches must be developed to meet the needs of those excluded from the system, such as young people who never went (or wish to return) to school, those working in the informal sector, and certain ethnic minorities, including nomadic groups. 
Alongside the core knowledge that should be shared with as many people as possible, the report calls for constant improvements to vocational training programmes, so that trainees are better prepared to meet societal needs and find jobs. 
Focus on three projects
The SDC fully agrees with these ideas. When it comes to the challenges of education, the SDC has long been at the forefront of thinking at the international level, informed by pilot efforts and projects successfully carried out on several continents. 
In West Africa, for example, the SDC has been financing an extensive education programme for pastoralist groups across seven countries of the Sahel since 2012. Custom training modules were designed around the traditional educational system, which is based largely on urban professions. Breeders learn, for example, of the conflicts that may arise when their herds stray onto cropland.
Regional Programme for the Education and Training of Pastoral Communities in Cross-Border Areas, SDC project (fr)
Sahel communities learn reading, writing and arithmetic, video (fr)
In Mali, where nearly half of all children do not complete primary school, the SDC supports the creation of accelerated courses. These courses provide a way back to school for pupils who have been forced to interrupt their studies, in some cases owing to an outbreak of conflict. For nomadic groups in the north of the country, mobile schools are another solution. In such situations, teachers and school materials travel alongside nomadic communities as they move from one grazing area to another.
Good schools for all Malian children, SDC project
In the western Balkans, the SDC has long been a partner of the Roma Education Fund, which seeks to integrate Roma children in the education system as early as preschool. Major challenges remain (including that of pupils who are forced to interrupt their studies), but the initiative has delivered some significant results: from 2005 to 2015, 235,000 Roma children and youth and 375,000 sets of parents benefited from it.
The social integration of Roma children requires education, SDC project
Roma children discover the joy of learning, video (fr)
In the coming years, the SDC will further expand the resources it allocates to education and vocational training, with a particular focus on fragile contexts. To do this, it will deepen existing partnerships with the private sector in an effort to diversify funding sources.