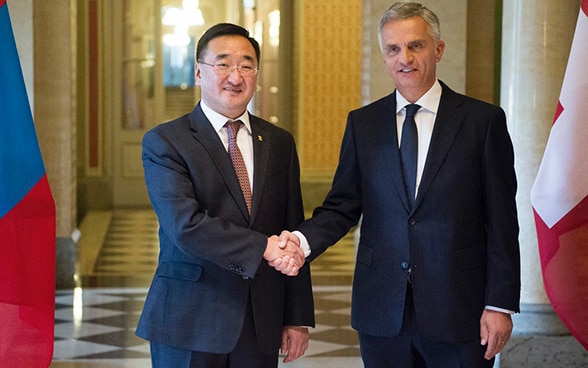 Mongolia and Switzerland have good, cordial diplomatic relations dating back 51 years. Switzerland has also been involved in development cooperation in Mongolia for 11 years, and Mr Burkhalter assured his opposite number that Mongolia could count on Switzerland continuing its active partnership in the years ahead. In particular, Switzerland would provide the Mongolians with the required expertise to support them in their efforts to declare their country a permanently neutral state. The Swiss direct democracy model is much admired by the Mongolian government, and so the decentralisation of the system of governance is one of the priorities for Swiss development cooperation, alongside the development of civil society and a commitment to agriculture, food security, vocational education and training, and small-scale mining.
Other discussion topics included international, regional and multilateral issues of the day, such as combating terrorism, cooperative security in Asia and human rights. Special attention was paid here to the Voluntary Principles on Security and Human Rights, which act as guidelines for mining and oil production activities, ensuring that human rights are protected while guaranteeing operational safety.
Mr Burkhalter also spoke with Mr Purevsuren about organisational arrangements for the Asia-Europe Meeting (ASEM) in 2016. Every two years, this summit brings together representatives of the 51 member states, including Switzerland, and representatives of the European Union and of the Association of Southeast Asian Nations (ASEAN). Switzerland considers this meeting the most important forum for dialogue between Asian and European countries.
Today the two foreign ministers took part in the Annual Democracy Forum of the International Institute for Democracy and Electoral Assistance (International IDEA). Switzerland is chairing the organisation's Council of Member States in 2015 – a role that will pass to Mongolia for 2016.
---
Further information:
Switzerland and Mongolia
Development cooperation between Switzerland and Mongolia
Facebook profile of the SDC's cooperation office in Ulaanbaatar
IDEA
Voluntary Principles on Security and Human Rights

---
Address for enquiries:
Information FDFA
Bundeshaus West
CH-3003 Bern
Tel.: +41 58 462 31 53
Fax: +41 58 464 90 47
E-Mail: info@eda.admin.ch
---
Publisher: