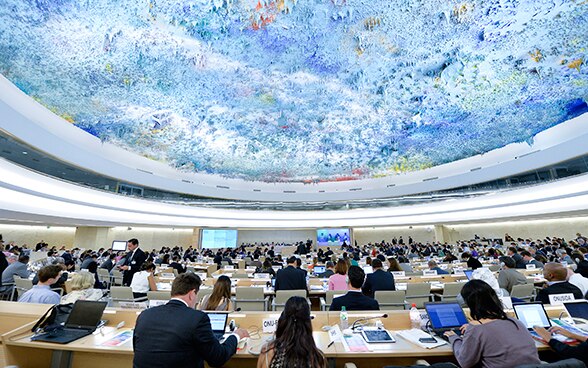 Sixty-seven years ago, on 10 December 1948, the UN General Assembly adopted the Universal Declaration of Human Rights. The Declaration sets out the most important fundamental rights in 30 articles, starting with Article 1: "All human beings are born free and equal in dignity and rights." Since the Declaration was adopted, the United Nations has developed various conventions establishing a sophisticated set of instruments for the protection of human rights at international level. Human Rights Day, which is observed every year on 10 December, reminds us that the human rights standards we have established since 1948 must be maintained and protected. Human Rights Day is dedicated to individuals whose human rights have been violated and to those who are working tirelessly to defend human rights, often risking their own lives.
For Switzerland, the promotion and protection of the human rights of all individuals worldwide is more than just a goal to work towards; it is an obligation and a priority of Swiss foreign policy. We firmly believe that compliance with human rights is essential for sustainable development, peace, security and prosperity in Switzerland and around the world.
In its international cooperation programmes in various partner countries, Switzerland is therefore strengthening national human rights institutions that are working to protect citizens' rights, including the sensitive issue of putting an end to torture. Switzerland is also defending the rights of particularly marginalised groups, for example in the Western Balkans, where it is supporting the full integration of the Roma community into society, including unfettered access to education for Roma children who are facing discrimination.
In addition, Switzerland supports the International Code of Conduct for Private Security Service Providers, which aims to ensure respect for human rights and international humanitarian law in regions where the rule of law is under threat. Its governance and oversight mechanism was established in Geneva and is currently developing processes to ensure that private security companies comply with the Code of Conduct.
Lastly, Switzerland has also put particularly pressing human rights issues on the agenda of multilateral forums. For example, it is working to strengthen human rights standards and their implementation with respect to peaceful protests, the abolition of the death penalty, dealing with the past in post-conflict societies, and law and justice in transition processes. Switzerland also played a leading role in the development and adoption by the UN Committee on World Food Security of the Voluntary Guidelines on the Responsible Governance of Tenure. The Voluntary Guidelines are based on human rights standards and aim to ensure access to and control of natural resources for the poorest rural population groups.
The challenges to strengthening human rights have not diminished since 1948. On the contrary, restrictions on freedom of speech and reprisals against human rights defenders are on the rise in many countries. Persecution of religious and other minorities, unlawful arrests, torture, sexual violence and human trafficking are still commonplace. Putting an end to these human rights abuses and protecting particularly vulnerable people such as refugees and migrants requires joint action by all states.
At international level, Switzerland is engaged in both bilateral and multilateral dialogue with partners from every region of the world representing all stakeholders. With Geneva as the world's human rights capital, Switzerland contributes to the international promotion and protection of human rights. The most important UN human rights body, the UN Human Rights Council, meets in Geneva. The Office of the UN High Commissioner for Human Rights and numerous NGOs and think tanks are also based in Geneva.
On 28 October 2015, the UN General Assembly elected Switzerland to the Human Rights Council – for the third time since 2006. With an eye to the Council's tenth anniversary next year, Switzerland will also work to bolster the entire UN human rights system above and beyond the Human Rights Council. In order to promote more effective implementation of international human rights conventions, Switzerland will also continue to fulfil its role as a bridge builder.
The international community's commitment and the institutional reinforcement of the international bodies responsible for promoting and protecting human rights have raised global awareness of human rights, particularly the rights of victims. Furthermore, human rights are now a concern in areas where they would have been unthinkable only 20 years ago. Efforts to promote corporate social and environmental responsibility in the private sector are a case in point. Each of these important steps hardens our resolve to strengthen human rights.
To guarantee the basic rights of all, particularly vulnerable people such as those affected by the Syria crisis must be afforded greater protection. In refugee camps for those fleeing Syria, for example, it is becoming all too clear how important it is to maintain the protection of the most fundamental rights, in particular in such difficult conditions. In October 2015 Federal Councillor Didier Burkhalter, head of the Federal Department of Foreign Affairs, visited Jordan's Azraq refugee camp, where he was briefed on the situation and met with refugees.
Switzerland supports the efforts of countries of first refuge that have already taken in millions of refugees – such as Jordan, Lebanon and Turkey – to provide prompt and effective protection. To this end, it has created a foreign policy instrument known as 'Protection in the Region' and increased on-the-ground aid for the crises in Syria, Iraq and the Horn of Africa by CHF 70 million.
The FDFA is observing this year's Human Rights Day at the Human Rights Film Festival Zurich (http://www.humanrightsfilmfestival.ch/). This festival focuses on topical issues such as refugees and migration, the Syria crisis, gay rights and the repercussions of mining for human rights.
---
Address for enquiries:
Information FDFA
Bundeshaus West
CH-3003 Bern
Tel.: +41 58 462 31 53
Fax: +41 58 464 90 47
E-Mail: info@eda.admin.ch
---
Publisher: