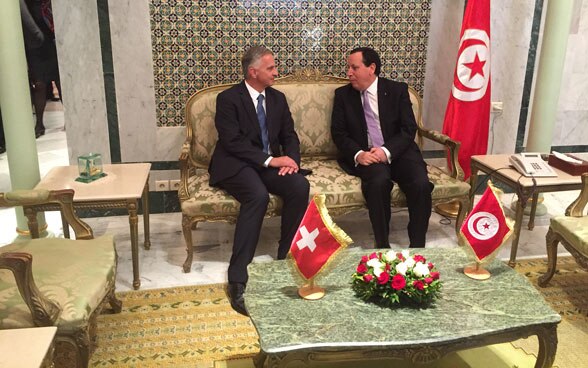 As a token of the stronger ties between the two countries, the head of the Federal Department of Foreign Affairs (FDFA) and the Tunisian foreign minister signed a document renewing and reaffirming Switzerland's support for Tunisia's transition to democracy. Having been present in the country since 2011, Switzerland intends to continue supporting Tunisia through a programme of commitment spanning 2017 to 2020, to be adopted shortly.
"We are here to reaffirm the ties of friendship that bind us and to gauge the work that we still need to do together," Mr Burkhalter explained following the talks, adding: "Switzerland admires how far Tunisia has come since 2011." "Switzerland will continue to work alongside Tunisia, with a particular emphasis on programmes for young people and the most disadvantaged regions," he said, pointing out that supporting the creation of jobs for young Tunisians is also in Switzerland's own interests.
As well as improving vocational training and future prospects for young people, Mr Burkhalter and his partners discussed migration policy and the importance of preventing violent extremism. The talks were also an opportunity to discuss progress on the restitution of illicit assets from the regime of former President Ben Ali (CHF 60 million are frozen in Switzerland). Mr Burkhalter said there was good cooperation between the two countries, adding that Switzerland expected a successful outcome to the legal proceedings in Tunisia against individuals who had misappropriated funds.
The head of the FDFA also visited two Swiss cooperation projects in Tunis. The first fosters business creation among young people living in Tunis through the award of microloans. Some 15,000 jobs have been created since 2012. Mr Burkhalter then met young people from deprived neighbourhoods who are working with the local authorities on projects to improve living conditions in the areas where they live.
---
Further information:
15,000 new posts – Project I-SEMER
Bilateral relations Switzerland–Tunisia

---
Address for enquiries:
Information FDFA
Bundeshaus West
CH-3003 Bern
Tel.: +41 58 462 31 53
Fax: +41 58 464 90 47
E-Mail: info@eda.admin.ch
---
Publisher: