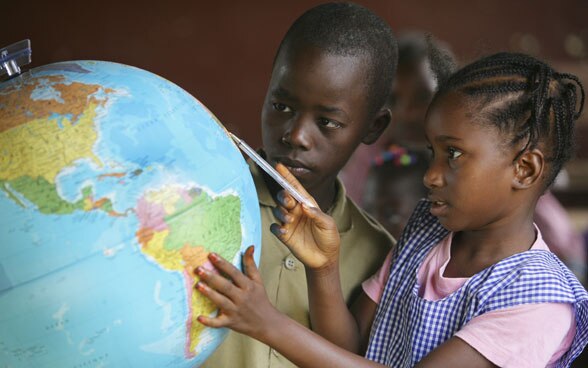 "Over the past year, Switzerland's international cooperation efforts have achieved gratifying progress and remarkable success.  Through the implementation of targeted programmes and projects, and on the basis of an approach geared towards results and informed by a constant commitment to quality, in 2015 the SDC and SECO have continued their efforts to reduce poverty and global risks," emphasized, in the editorial to the report, SECO Director Marie-Gabrielle Ineichen-Fleisch and SDC Director-General Manuel Sager.
The Annual Report builds on expert evaluations regularly carried out to assess the work of the SDC and SECO. It presents, in particular, a selection of results from the field of education. A case in point is Burkina Faso, where Swiss support for the education system has allowed 2,760,000 children to start school or stay in school. Testimonials, interviews and insights on challenges related to development, as well detailed statistics presented in a clear manner in a booklet, offer an overview of the efforts made in 2015 by the SDC and SECO in their partner countries and at the international level. The Annual Report not only highlights the projects and programmes that have achieved their objectives but also draws lessons from those that have not been as successful.
These gratifying results notwithstanding, 2015 was marked by humanitarian crises and the proliferation of violent conflicts: "We have faced incalculable human suffering and tragedy. The heart-wrenching fates of people in need, living in poverty or forced into exile, have shocked us and propelled us to take action.  The SDC has not just provided emergency aid but has also leveraged development cooperation resources to address the causes of crises and conflicts," wrote Marie-Gabrielle Ineichen-Fleisch and Manuel Sager.
Switzerland is a highly valued partner, recognised for its competence and reliability, both in multilateral forums and in bilateral programmes and projects.  Ms Ineichen-Fleisch and Mr Sager concur that "the SDC and SECO have made every effort to allow every human being to live in dignity and in freedom from want and violence, while benefiting from economic opportunities – efforts to build a world without poverty and in peace, for sustainable development."

For further informations:
Information FDFA
+41 (0)58 462 31 53
info@eda.admin.ch
Information SECO
+41 (0)58 464 09 10
info@seco.admin.ch
---
Further information:
Swiss International Cooperation 2015
Annual Report 2015
Statistics 2015
Disaster risk reduction, emergency relief and reconstruction
Fragility and violence impede poverty reduction
Basic education and vocational training
State and Economic Reforms
Climate change and the environment
SECO: Economic Cooperation and Development

---
Address for enquiries:
Information FDFA
Bundeshaus West
CH-3003 Bern
Tel.: +41 58 462 31 53
Fax: +41 58 464 90 47
E-Mail: info@eda.admin.ch
---
Publisher:
Federal Department of Foreign Affairs
Federal Department of Economic Affairs, Education and Research