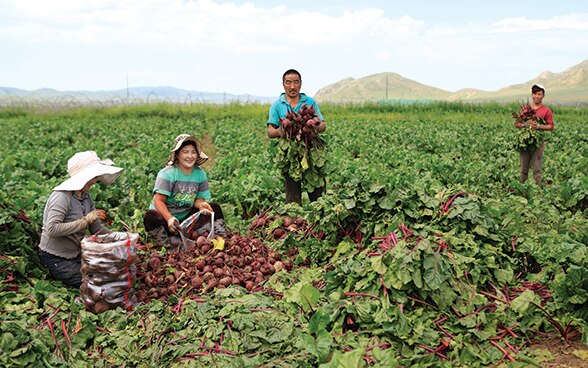 In Rwanda, Burundi and the Democratic Republic of the Congo, gender-based violence has declined thanks to a support programme involving men and women. In Afghanistan, female farmers have been able to increase their incomes thanks to courses in poultry and goat farming. And in Albania women are now playing a greater role in politics than ever before, thanks to a decentralisation and democratisation programme.  These examples show that the SDC's commitment in the three core areas of combating gender-based violence, economic empowerment and political participation of women is proving effective. "Gender equality and the empowerment of women are key to development cooperation," said Thomas Gass, head of the SDC's South Cooperation Department, during the presentation of the two studies to the media. "Without them, there can be no sustainable development."
The Status Report on Gender Equality 2017, entitled 'Closing the Gender Gap', uses examples of concrete projects to illustrate the progress the SDC has made so far in its efforts to bridge the gender gap. In sum, violence against women has been reduced in a number of areas, while their economic and political status has shown a general improvement. Over CHF 1.38 billion was spent on bilateral cooperation in 2017, of which some two thirds was spent on projects that had a positive impact on gender equality.
An externally produced evaluation, entitled 'Report on Effectiveness: Swiss international cooperation in the field of gender equality 2007–2016', assessed in turn which types of gender equality project proved most effective. It concluded that 73% of projects whose main objective was to contribute to improving gender equality proved effective, while projects that had a different main focus and included the gender aspect as a transversal theme – such as projects to raise the incomes of men and women – had a corresponding success rate of 31%. The report on effectiveness concludes that, overall, considerable structural improvements have been achieved in terms of gender equality, asserting that 50% of the SDC projects examined contributed to a better participation of women in decision-making processes – both in the home and at the political level. 40% of the projects contributed to a reduction in violence, while 30% successfully contributed to the economic empowerment of women.
Both reports – which differ in their approach and focus – conclude that the SDC should pursue its current commitment to gender equality. "The fight for gender equality is a slow and difficult process," according to the status report. Additional targeted efforts are necessary, in particular in the areas of gender-based violence, participation in the labour market and integration in decision-making processes. Lasting change that permanently changes social norms and gender roles can only be achieved if men and boys are also involved in the projects. In addition, new partnerships – including with the private sector – must be envisaged to improve the economic integration of women.
---
Further information:
Status Report on Gender Equality 2017 Closing the Gender Gap
Report on Effectiveness: Swiss international cooperation in the field of gender equality 2007–2016
SDC/Gender equality

---
Address for enquiries:
Information FDFA
Bundeshaus West
CH-3003 Bern
Tel.: +41 58 462 31 53
Fax: +41 58 464 90 47
E-Mail: info@eda.admin.ch
---
Publisher: