Environmentally-friendly cement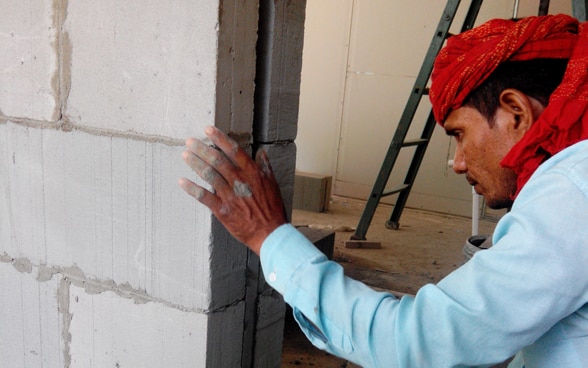 Switzerland, India and Cuba are developing a type of cement that releases less CO2 in production than conventional cement.
Cement production is responsible for roughly 5-8% of the global greenhouse gas emissions caused by human activity. On account of the huge infrastructure needs – in particular in emerging markets such as India, China and Brazil – demand for cement is set to double by 2050. This will involve a huge increase in climate-damaging greenhouse gas emissions.
The SDC is supporting the development of a new type of cement called LC3 (Limestone Calcined Clay Cement). The production of this cement emits up to 30% less CO2 than conventional cement. It could therefore play a significant role in the fight against climate change. LC3 was developed as part of a SDC-funded research partnership between the École Polytechnique Fédérale de Lausanne (EPFL) and universities in India and Cuba.
The long-term plan is to supply LC3 in cement markets with high levels of demand. The SDC and the project team are therefore working with representatives of the international cement industry. An important step involves getting the cement type approved by the competent authorities.
If the project is successful in convincing the cement industry of the benefits of this new type of cement, global greenhouse gas emissions could be sharply reduced. Specifically, this would mean a reduction of 400 million tonnes of CO2 a year, which equates to 1% of annual global emissions or eight times Switzerland's emissions.