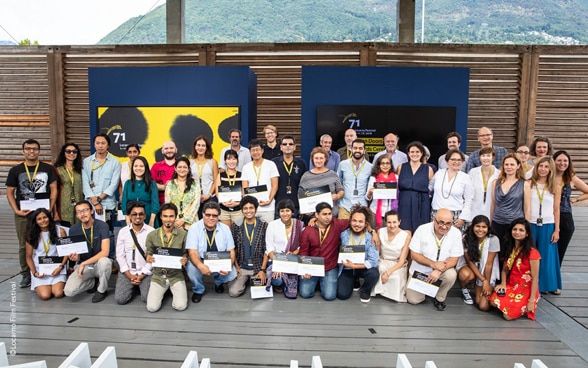 The 72nd Locarno Film Festival and the 17th edition of Open Doors will kick off at the beginning of August. The Open Doors section, a Locarno Pro initiative undertaken in collaboration with the SDC, aims to support independent cinema and showcase films and film-makers from the Global South and East.
Each year, Open Doors focuses on a different region of the world where opportunities for making films and promoting culture are very limited. This 17th edition will take place from 7 to 13 August. During the 2019–21 period, Open Doors will showcase film-making from South-East Asia (Laos, Thailand, Cambodia, Vietnam, Myanmar, Indonesia, Malaysia, Philippines) and Mongolia. Open Doors has three parallel events at the Locarno Film Festival: Open Doors Hub, Open Doors Lab and Open Doors Screenings.
Eight films have been selected for this year's Open Doors Hub, reflecting the enormous diversity South-East Asian and Mongolian cinema. This August, the directors and producers of these films will take part in professional workshops and meet with European and international partners.
Nine up-and-coming producers who are keen to work in an international context have been invited to take part in the Open Doors Lab, where they will have the opportunity to complete a training programme to broaden their professional skills and get to know the international film market and the opportunities it has to offer.
Open Doors Screenings showcases a selection of films from a particular part of the world. This year's edition will be dedicated to feature films and short films from Mongolia, Cambodia, Laos, Vietnam and Thailand.
Prizes
The Open Doors jury will award different prizes for the projects featured in this section of the festival. The CHF 50,000 Open Doors Grant will be awarded by the City of Bellinzona together with visions sud est, the Swiss production fund, which is also supported by the SDC. The Centre national du cinéma et de l'image animée (CNC) will award a prize worth EUR 8,000. ARTE will also present an award worth EUR 6,000. Prizes in kind will also be awarded, in partnership with various European institutions and programmes, to a number of the Open Doors Hub and Open Doors Lab participants.