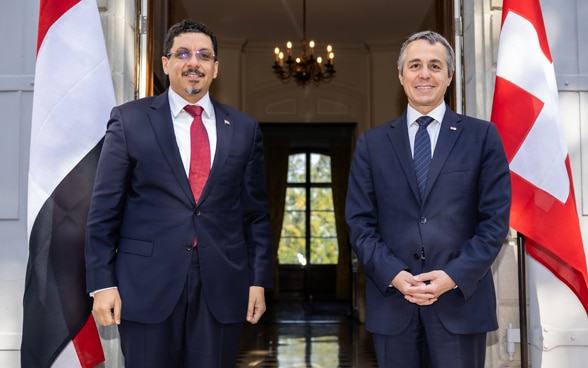 The head of the FDFA took advantage of the in-person meeting to present Switzerland's priorities under its MENA Strategy 2021–24 to Minister of Foreign Affairs bin Mubarak. Peacebuilding, alleviating humanitarian suffering, and the protection of the civilian population in Yemen will be the focus of Switzerland's efforts over the next few years. Mr Cassis encouraged Mr bin Mubarak to work for a ceasefire and a political solution to the Yemen conflict. He reiterated Switzerland's willingness to deploy its good offices to support future peace negotiations within the UN between the parties to the conflict.
The two foreign ministers also discussed the humanitarian situation in Yemen. The crisis in Yemen is one of the world's worst humanitarian disasters. Mr Cassis stressed how important it is that all parties to the conflict respect international humanitarian law and humanitarian principles. "Unrestricted access to the civilian population must be guaranteed and the current administrative and logistical hurdles removed," he said.
 
Swiss Humanitarian Aid

Yemen has been in a state of civil war since 2015 and is one of the poorest countries in the world. Some 71% of the population are dependent on humanitarian aid. Switzerland has been working in Yemen since 2007 to ensure access to water and sanitation, the protection of civilians and respect for international humanitarian law. In 2021, Switzerland's budget for activities in Yemen amounts to CHF 14 million. Since 2017 it has spent a total of CHF 71 million in Yemen. From 2017 to 2019 and again in 2021, Switzerland co-hosted a high-level donor conference for Yemen with Sweden and the United Nations Office for the Coordination of Humanitarian Affairs (OCHA). This event raised approximately USD 1.7 billion in 2021.
Commitment to peace

The protracted conflict in Yemen is a consequence of local historical rivalries and the geopolitical tensions affecting the region. Switzerland recognises these dynamics and is engaged in various efforts towards sustainable peace in Yemen. Together with like-minded states, it supports the UN's peace efforts and has repeatedly hosted talks in western Switzerland between the parties to the conflict. These led to the release of over 1,000 prisoners of war last year. In addition, Switzerland supports regional peace policy initiatives around the Arabian Peninsula and in Iran which seek to reduce tensions and build peace and stability in the region in the longer term.
The Yemeni Minister of Foreign Affairs Ahmed Awad bin Mubarak visited Geneva on 13 September as part of a tour of several European countries.
---
Further information:
Bilateral relations Switzerland–Yemen
MENA Strategy 2021-2024
SDC country page

---
Address for enquiries:
FDFA Communication
Federal Palace West Wing
CH-3003 Bern, Switzerland
Tel. Communication service: +41 58 462 31 53
Tel. Press service: +41 58 460 55 55
E-mail: kommunikation@eda.admin.ch
Twitter: @SwissMFA
---
Publisher: