openIMIS: the open source software that facilitates access to healthcare
The SDC is harnessing new technologies to overcome challenges in healthcare. Access to high-quality medical assistance via QR code: that is the goal of openIMIS, an initiative developed by the Swiss Agency for Development and Cooperation (SDC). The solution has already been rolled out in several low-income countries including Tanzania and Gambia. This Tech4Good project demonstrates an effective digital solution in the healthcare sector.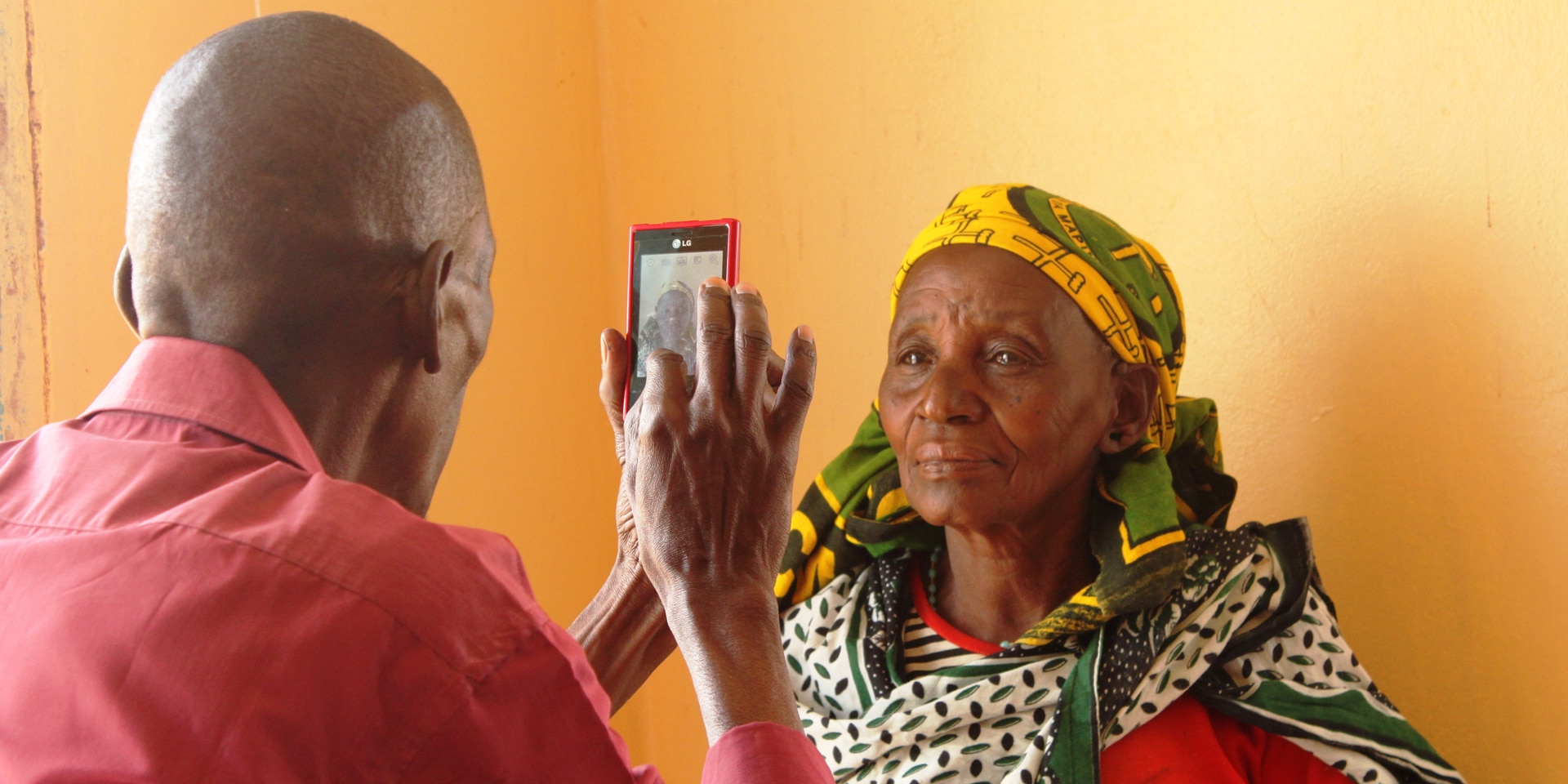 Both bilaterally and globally, the SDC supports the development of innovative technologies in the field of health and social security. © FDFA
Lina lives with her two children in a village in Tanzania. When she arrives at the doctors after a bad fall, the first thing she does is present a card featuring a QR code. Her doctor just has to scan the code to access her medical records and those of her children. The doctor can also check her health insurance cover and enter her medication. The health insurance company also has access to this data and can process her claim and approve payment. That means Lina can start her treatment right away.
Lina's experience shows what new technologies can bring to the provision of high-quality, accessible and safe healthcare in low-income countries. Out-of-pocket payments for medical care have forced 100 million people worldwide into deeper poverty. The challenge for countries like Tanzania is to promote universal healthcare that is also accessible in rural and under-served areas, improving access to healthcare systems. These are important steps to achieve the Sustainable Development Goals of the 2030 Agenda and ensure that no one is left behind.
However access to healthcare poses major challenges such as the administration of vast amounts of data, long journeys to request money to pay for treatment, paperwork, and the risk of administrative error and fraud. Digitalisation is part of the answer, as it can act as a catalyst for systemic change.
The SDC supports the development of innovative technologies in the healthcare and social sectors both bilaterally and globally. openIMIS, which stands for Open Insurance Management Information System, is one example. All it takes is a smartphone to quickly collect, process, update and disseminate information. In many low- and middle-income countries mobile phones and internet access are widely available and used. 
openIMIS: a digital solution for global access to healthcare
openIMIS is an open source application that connects patient, provider and payer data. It can be used, for example, by health insurance and social security providers in low- and middle-income countries to record comprehensive patient data online. The patient then receives a QR code. Lina was also able to register herself and her children in the healthcare system. Digital data management makes it possible to invoice and update the data in real time, in a few clicks.
The openIMIS initiative grew out of a collaboration between the SDC and the German Federal Ministry for Economic Cooperation and Development (BMZ). The SDC supported the initial development of the software by the Swiss Tropical and Public Health Institute (Swiss TPH) in Tanzania in 2012, and the BMZ funded the adaptation and rollout of the application in Nepal in 2014.
This success encouraged the initiators to make the application open source. Over the years it has also been rolled out in Cameroon, in the Kivu region (Democratic Republic of the Congo), Chad, and Gambia. In addition, various bilateral and multilateral donor agencies are working to adapt openIMIS to different insurance systems. The French Development Agency (AFD) is doing this in Cameroon, as are the Belgian Cooperation Agency (Enable) in Zanzibar, Mauritania and Niger, and the World Bank, the World Health Organization (WHO) and the International Labour Office (ILO) in Uzbekistan, Bangladesh, Pakistan, Burkina Faso and Haiti. 
The SDC and BMZ launched a fund to finance feasibility studies to adapt openIMIS to these new contexts. "As time went on, we noticed a strong interest in the application. And we realised that if we joined forces to promote it internationally, other countries could use it to support their own health systems' financing processes," explains Olivier Praz, Senior Policy Adviser for the SDC's Global Health Programme. More than five million people are currently covered by health insurance systems that use openIMIS.

'Open source' means that anyone can copy, modify and distribute a program's source code, which is managed and continuously improved. It can thus be applied to the needs of different countries. "Despite different strategies and political systems, basic health system processes – such as the management of human resources and even the financing of health services – are very similar all around the world," says Olivier Praz. 
Software for a quick response even during emergencies
The COVID-19 pandemic has made the importance and need for resilient health and social protection systems clear to everyone. In every country, digitalisation is playing a key role in improving health systems and making them financially sustainable.
openIMIS and its applications around the world show how digitalisation can transform public health. One example is Gambia. During the pandemic, the government's National Nutrition Agency, with support from the World Bank, used openIMIS to transfer emergency grants to families bearing the financial consequences of the pandemic. The system was the same: a staff member scanned the QR code to check and update the family's medical records, the funds were transferred and the distribution verified.
Many users have expressed their satisfaction with the software. Teacher Burang Baldeh, 50, was able to collect his money at a payment point just 15 minutes from his house. Being able to withdraw the payment on time has been essential – his whole family depends on his monthly salary, and this quick money transfer has provided a meal for his children even in the leanest periods. Amie Jallow, 31, describes the rainy season as a hungry period, when food is scarce. After the government announced support for families during the pandemic, she travelled for an hour to the payment point and received her money within an hour and a half. She was thus able to put food on the table without having to borrow, barter, or skip meals.
Like many other such solutions, openIMIS and its rollout in various countries show what digital technologies can bring to diplomacy, poverty reduction and sustainability. The Federal Council adopted its Digital Foreign Policy Strategy 2021–24 to harness this potential. Around the world, digital solutions have become key to addressing the global challenges that affect us all. 
International cooperation
Switzerland's international cooperation is based on its Foreign Policy Strategy and aims to combat poverty in developing countries and to contribute to their sustainable development. Health is an essential factor in development: the SDC's health interventions focus on strengthening health systems, combating communicable and non-communicable diseases and improving sexual, reproductive, maternal, newborn and child health.