Agriculture and food security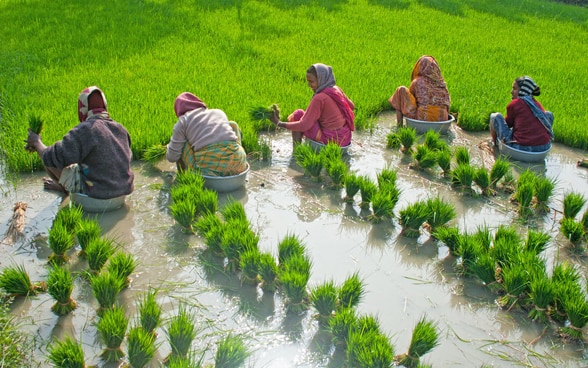 Hunger and malnutrition not only endanger the health of people but pose a significant threat to the overall development of a country. The SDC is committed to ensuring adequate, sufficient and good-quality food for all, taking into account the entire food value chain: from the fields where food is produced, to storage and processing, markets, trade, transport and up to consumers via diet.
The SDC works worldwide to secure the human right to adequate food. It designs its activities with the aim of giving poorer and disadvantaged population groups, such as smallholder farmers, women and young people, equal access to education, productive resources and markets. The SDC helps them to make productive but sustainable use of natural resources and supports them in dealing with the effects of climate change, with the storage and marketing of their produce and with continuous adaptation to changing environmental conditions. Throughout all these endeavors, the SDC persistently pays special attention to the preservation of the highly endangered biodiversity in each context. It also promotes needs-oriented research and advisory services.
In addition, the SDC encourages innovations all along the food value chain that provide consumers with a healthy and diverse diet by facilitating access to suitable foodstuffs, both in rural and in urban areas.
Sustainable agriculture ensures a healthy diet, preserves biodiversity, and is the basis for securing the human right to adequate food. With this goal in mind, Switzerland engages in international cooperation in the field of food security. The Swiss agriculture sector, with its multifunctional, family-based and environmentally-friendly food production geared to social and regional balance, acts as a role model.
Links
Documents
Current projects