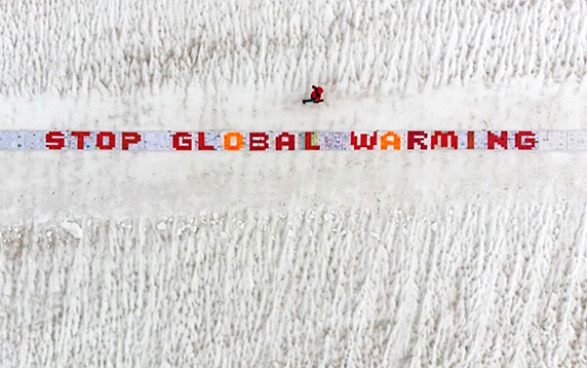 With over 100,000 hand-drawn postcards, children and young people from all over the world are calling for action against climate change. On 16 November the colourful cards will be joined together to form a single enormous postcard, over 2,000m2 in size, spread out along the Aletsch glacier on the Jungfraujoch. Be a part of this new world record: you too can join the call for more action against climate change on the Jungfraujoch on 16 November.
The SDC is supporting efforts to mobilise children and young people against climate change around the world. The main objective is to launch a 'global climate change youth movement' which can make its voice heard among the key decision-makers.
With the Paris climate agreement in 2015, Switzerland stood alongside the international community with the goal of keeping the global temperature rise to less than 2°C above pre-industrial levels. This will only be possible if society at large commits to a substantial reduction in greenhouse gas emissions by taking concrete action. Children and young people are key players here – as both the generations that will have to live longer with climate change as well as the driving force to take concrete action against it.
Strengthening the voice of the young
Together with the World Advanced Vehicle Expedition (WAVE), more than 100,000 postcards with climate change promises and messages to decision-makers, sent from children and young people all over the world, will be laid out on the Aletsch glacier. This will set a new Guinness world record on 16 November 2018 for the largest composed postcard.
The main messages will be filtered out of the thousands of postcards and presented to the participants at the climate change convention to be held in Poland this December. This is being done to remind the politicians and decision-makers at the conference that the next generation is counting on them to take concrete action.
Be a part of this new record attempt on the Jungfraujoch and send in your call for more action against climate change.
Further information is available in several languages under the following links:
www.hazu.io/deza/postkarte (German)
www.hazu.io/deza/postcard (English)
www.hazu.io/deza/cartepostale (French)
www.hazu.io/deza/postal (Spanish)