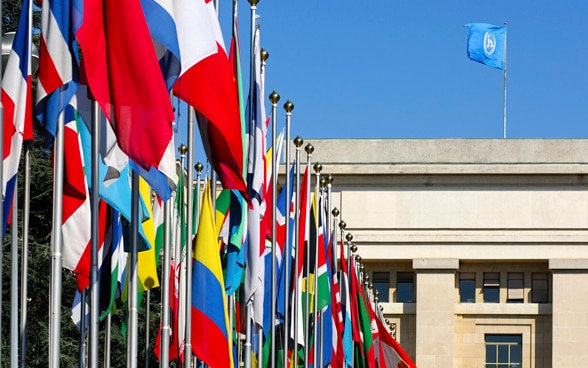 The dispatch and the new foundation share the objective of strengthening Switzerland's role in addressing the challenges of multilateral diplomacy in the 21st century and bringing the scientific and diplomatic communities closer together.
In order to further strengthen Switzerland's ability to serve as a host state, International Geneva must be positioned as the best place to discuss the emerging issues that will dominate the global agenda in the coming decades, such as the advances in genetics that are already transforming the health and agricultural sectors and the impact of artificial intelligence on work.
To this end, the Federal Council is submitting to Parliament a new strategy aimed at enhancing Switzerland's attractiveness as a host state and centre of global governance. It is seeking to obtain funds in order to implement these measures. In total, some CHF 111.8 million are sought for the period 2020–23. This amount comprises an expenditure ceiling of CHF 103.8million and a guarantee credit of CHF 8 million. The planned measures will take effect from 2020, subject to Parliament's approval in 2019. The total amount for the 2016–19 period was CHF 117.2 million, comprised of an expenditure ceiling of CHF 102.4 million and two guarantee credits totalling CHF 14.8 million.
The Federal Council also approved the creation of the Geneva Science and Diplomacy Anticipator foundation, which aims to provide the international community with an innovative and flexible instrument that will enable international organisations to rapidly address the challenges of multilateral diplomacy in the 21st century. Recent technological and scientific developments are driving progress and creating opportunities for the future but also have the potential of having destabilising repercussions for our societies and institutions. Meeting the challenges brought about by these developments, identifying governance needs and proposing solutions requires innovative partnerships among a variety of stakeholders across national borders.
The GSDA, co-founded by the Swiss Confederation and the Canton of Geneva, will be financed by the FDFA in the amount of CHF 3 million over three years (with a pilot phase from 2019 to 2022). This amount has already been budgeted under the host state credit. The Cantonal Council of the Republic and Canton of Geneva and the Administrative Council of the City of Geneva approved a contribution of CHF 300,000 each, subject to the necessary parliamentary approvals, for the same period. Sponsors will also contribute funds. During the first three years, scientific and political experts will meet to identify the issues to be addressed and launch the foundation's first projects.
---
---
Address for enquiries:
FDFA Information
Tel. +41 58 462 31 53
info@eda.admin.ch
---
Publisher: