Despite difficulties, Swiss aid crosses border to Eastern Ukraine
Swiss humanitarian assistance is being delivered across the border to Eastern Ukraine for the twelfth time, despite the war and additional challenges related to COVID-19. Everything is in short supply there. Dietrich Dreyer, programme officer at the Swiss Agency for Development and Cooperation SDC, explains why delivery of this humanitarian aid is even more difficult and urgent than normal due to the coronavirus crisis.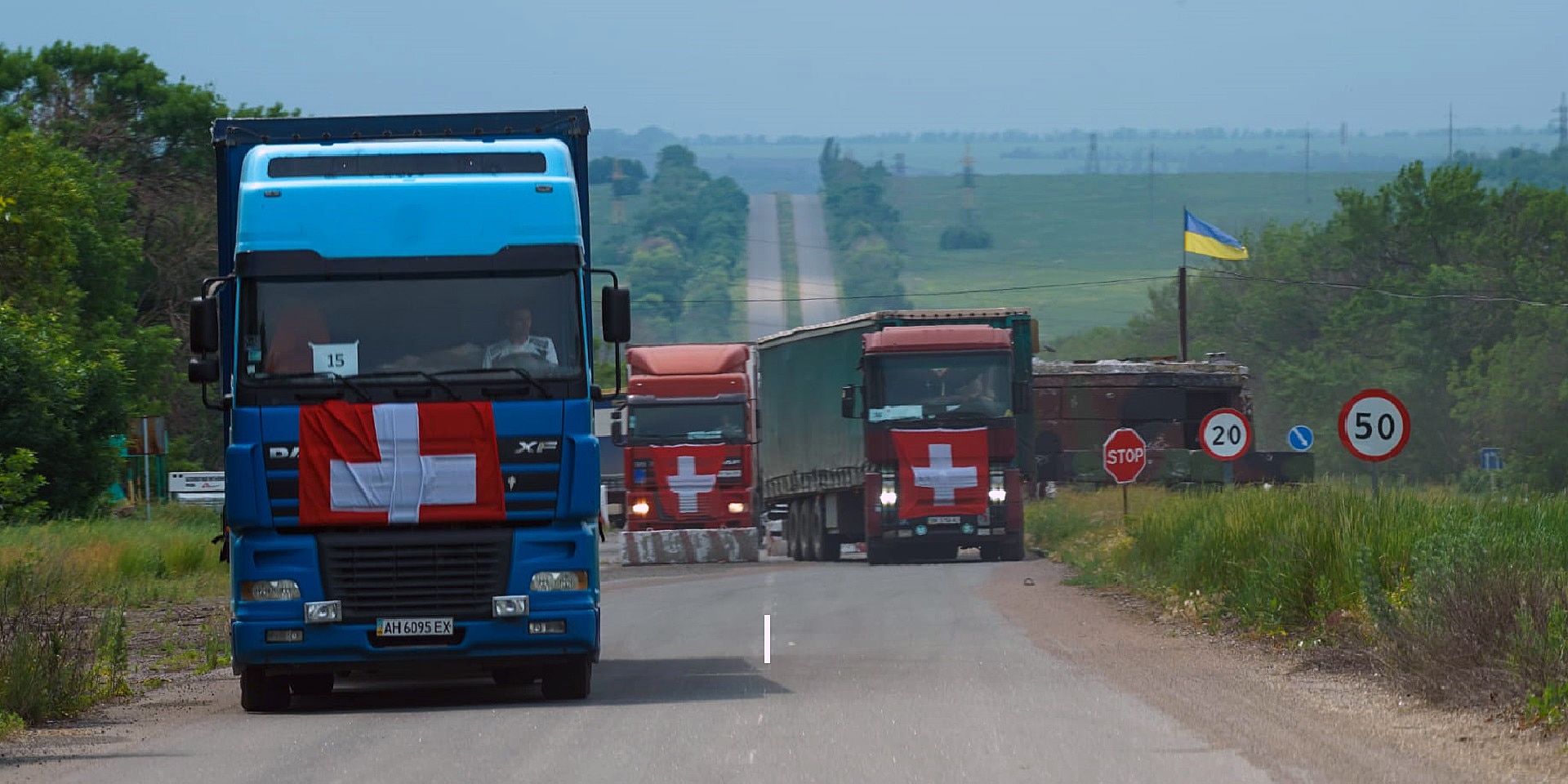 Only one checkpoint remains open: due to COVID-19, Dieter Dreyer from the SDC delivers masks, disinfectant and medicine as well as aid to Eastern Ukraine. © FDFA
Dieter Dreyer, Swiss Humanitarian Aid is currently delivering its twelfth aid consignment over the contact line to Eastern Ukraine. Has this become routine now, or has the coronavirus crisis changed things?
While no convoy is quite the same as the previous ones, the challenges we face this time are particularly significant: interrupted production chains, supply bottlenecks in relief procurement, quarantine requirements, COVID-19 tests before departure and during the operation – and on top of all this the largest forest fires in living memory in the Luhansk region, which have claimed 15 lives and destroyed one of the only five checkpoints.
So aid consignments always include medical equipment for hospitals and drinking water treatment products, but this time, due to COVID-19, they also include masks, disinfectants etc.? 
On account of the spread of coronavirus in the summer, Switzerland increased its original budget by CHF 700,000 to CHF 3.5 million – the largest budget since the beginning of these operations. We are using it to support seven hospitals through various measures, such as supplying COVID tests, ventilators and personal protective equipment for hospital staff. This is key as a fifth of COVID cases are healthcare workers.
What does the coronavirus pandemic mean for people in Eastern Ukraine? 
I was in the conflict region three weeks ago preparing the convoy. Since August, the ceasefire is holding for the most part – I've never seen it that quiet at night and I was able to sleep without any interruptions. But since March, the five checkpoints – through which around one million people used to pass every month – have effectively been closed due to coronavirus-related restrictions.
One million pensioners have now had to do without their pensions for half a year.
This means, for example, that for the 100-kilometre journey from Donetsk to Mariupol, our engineer partners from the Donetsk waterworks have to take a 1,500-kilometre detour via Russia. Or that the million or so pensioners in the 'separatist regions', who would have to travel to the government-controlled area to collect their pensions, have now had to do without them for half a year.
It worries me when I hear people say that even in the worst years of the war, life was easier.
On top of this there are rising prices – humanitarian needs have massively increased in recent months. What I have found both striking and worrying is when people keep saying that even in the worst years of the war, life was easier, and that despite the fighting they didn't feel "like they were in prison" as they do now.
You said that there is currently only one supply route and one checkpoint open for the Swiss convoy. Are you feeling particularly stressed this time? 
Very much so. We have never delivered such an expensive convoy to where it is needed with such a small team in such a short space of time.  A single misspelling in the extensive documentation required for each articulated truck can waste us hours in controls at checkpoints. It is essential we make it through the no man's land before nightfall, because despite the ceasefire, shots are sometimes still fired.
Poverty reduction and sustainable development are two of the priorities of Switzerland's international cooperation strategy, which has just been debated in the Swiss parliament. You see the results of these efforts first hand: how do people react on the ground?
The nursing staff and patients there thank us, and we witness the waterworks managers' sighs of relief as the Swiss trucks refill their empty chemical storage facilities so they can make the water drinkable again. This makes me forget the stresses of preparing and delivering the consignment and makes it all worth it. Switzerland is one of only a handful of humanitarian actors who are even able to access the area beyond the contact line.
Switzerland's activities in Eastern Ukraine
Switzerland is working to find a peaceful, negotiated resolution to the conflict in Eastern Ukraine through the Trilateral Contact Group in Minsk. It has carried out international cooperation activities in Ukraine since the early 1990s. It opened a cooperation office in Kiev in 1999 and has since been supporting the reform efforts. It works to improve living standards for the population, to improve public services and to promote sustainable economic development. Switzerland's activities are based on its cooperation programme for 2020–23, which defines four areas of intervention under the responsibility of the corresponding units within the Swiss Federal Administration. 
More on Switzerland's aid operations in Ukraine 
Switzerland's international Cooperation Strategy 2021–24
Switzerland's international cooperation strategy aims to tackle poverty in developing countries and help them achieve sustainable development – through the three pillars of humanitarian aid, development cooperation and the promotion of peace and human security. International cooperation contributes to implementation of the Federal Council's Foreign Policy Strategy 2020–23. 
More on the international cooperation strategy: Brochure  (PDF, 52 Pages, 1.3 MB, English)
International cooperation strategy in the National Council
Federal Council adopts the international cooperation strategy