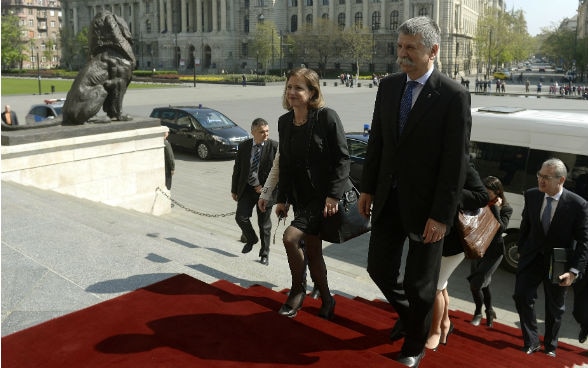 The President of the National Council, Christa Markwalder officially visited Budapest from April 12 to 15, where she met and had a working lunch with the President of the Hungarian parliament, László Kövér. She also paid a courtesy visit to Hungary's president, János Áder, and met the Minister for economics, Mihály Varga, the Minister for Human Resources and the members of the parliamentary Hungary-Switzerland friendship group. 
The delegation also had the opportunity to meet the representatives of the Balaton- Lake Geneva project in the Festetics Castle in Keszthely. 
In addition, Christa Markwalder was discussing projects related to the implementation of Switzerland's enlargement contribution for new EU member states and visited Contrinex, a Swiss company, which is a leading producer of inductive and photoelectric sensors. The parliamentary delegations as well as the Minister for Economics were also present at the press conference of the Nestlé Group, who announced their new investment in Bük. 
On Wednesday, 13 April, the National Council President took up an invitation on the part of the Centre for Democracy Research at Andrássy University Budapest and the Swiss embassy and gave a talk on the subject of Switzerland and Europe. 
The President of the National Council was accompanied by a parliamentary delegation including National Council member and first vice president Jürg Stahl (SVP/ZH) and National Council members Viola Amherd (CVP/VS), Balthasar Glättli (GP/ZH), Tiana Angelina Moser (GLP/ZH), Philippe Nantermod (FDP. The Liberals/VS) and Roger Nordmann (SP/VD). Philippe Schwab, secretary general of the Federal Assembly and Cédric Stucky, foreign policy advisor were also joining the delegation.