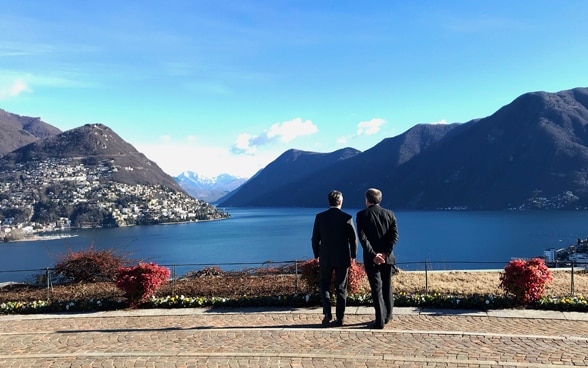 The head of the Federal Department of Foreign Affairs (FDFA), Ignazio Cassis, has met with his Italian counterpart at the Villa Principe Leopoldo in Lugano. The two foreign ministers first held a one-to-one meeting before being joined by their respective delegations for official talks. 
At the bilateral level, Mr Cassis and Mr Milanesi referred in particular to the new agreement on the taxation of cross-border commuters, which was initialled in 2015. The Swiss foreign minister stressed that Switzerland is ready to sign the new agreement, noting that it is in the mutual interest of both countries. They also discussed the Italian exclave of Campione d'Italia and specifically the municipality's switchover to EU taxation on 1 January 2020 and its debt situation.
The head of the FDFA went on to outline the latest developments regarding Switzerland's European policy. He reminded his guest that the Federal Council took note of the outcome of the negotiations on the institutional agreement between Switzerland and the EU last December. The Federal Council is due to conduct a series of consultations on the draft text in the near future.
Mr Cassis and Mr Milanesi wrapped up their meeting with an overview of some current international matters. In particular, they raised the issue of collaboration in regard to migration and also the Libyan situation. This was the first meeting between Mr Cassis and Mr Milanesi, who has been in office since June 2018. Italy is Switzerland's third-largest trading partner, after Germany and the US, and accounted for 7.8% of Switzerland's foreign trade in 2017.
---
Further information:
Bilateral relations Switzerland – Italy

---
Address for enquiries:
FDFA Information
Federal Palace West Wing
CH-3003 Bern, Switzerland
Tel.: +41 58 462 31 53
Fax: +41 58 464 90 47
E-mail: info@eda.admin.ch
---
Publisher: