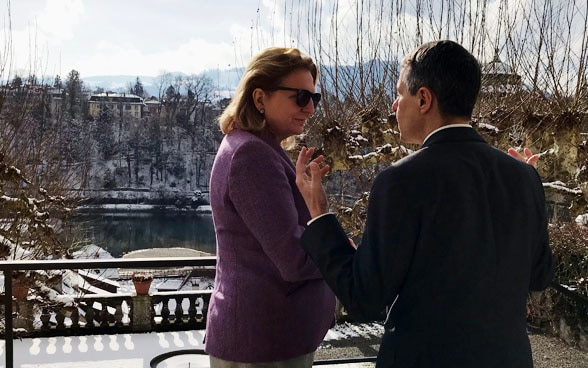 The head of the Federal Department of Foreign Affairs (FDFA), Ignazio Cassis, received his guest at Von Wattenwyl House. The two foreign ministers held a one-to-one meeting before being joined by their respective delegations for official talks. This was the second official meeting between Mr Cassis and Ms Kneissl since she took up office in December 2017. They first met in early July 2018 on the margins of the meeting of foreign ministers from German-speaking countries.
At bilateral level, Mr Cassis and Ms Kneissl discussed the airspace agreement  signed by Bern and Vienna, which governs cooperation on air policing to enhance border security. The agreement authorises Swiss pilots to cross the Austrian border to counter an air threat, for example at the World Economic Forum in Davos. Switzerland has already signed airspace agreements with other neighbouring countries, allowing the Swiss Air Force to respond to incidents across the border.
At their meeting, Mr Cassis also briefed Ms Kneissl on the latest developments in Switzerland's European policy, including the launch of consultations on the draft institutional agreement. At the end of 2018, Austria successfully concluded its presidency of the Council of the European Union, which rotates every six months.
Mr Cassis and Ms Kneissl wrapped up their meeting by reviewing some issues on the international agenda, including cooperation on migration, UN reforms and the situation in the Middle East. In relation to the Middle East, they explored some options for economic development in the region. 
Switzerland and Austria enjoy close and wide-ranging ties, principally through regular diplomatic visits, trade and culture. Switzerland is Austria's fourth-largest trading partner and a major investor in the country.
---
Further information:
Bilateral relations Switzerland–Austria

---
Address for enquiries:
FDFA Information
Federal Palace West Wing
CH-3003 Bern, Switzerland
Tel.: +41 58 462 31 53
Fax: +41 58 464 90 47
E-mail: info@eda.admin.ch
---
Publisher: