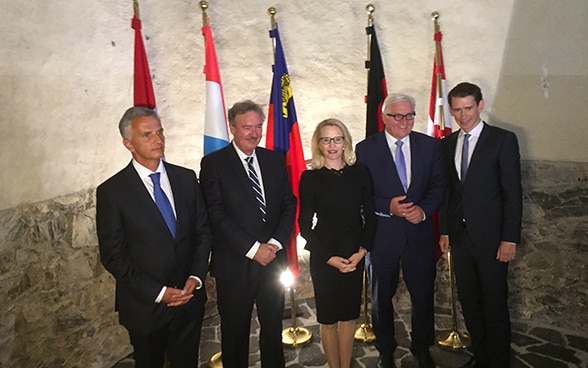 At the annual meeting of foreign ministers from German-speaking countries held today in Balzers (Liechtenstein), Federal Councillor Didier Burkhalter, head of the Federal Department of Foreign Affairs (FDFA), Aurelia Frick, Liechtenstein Minister of Foreign Affairs, Education and Culture, Sebastian Kurz, Austrian Federal Minister for European and International Affairs, Jean Asselborn, Luxembourg Minister for Foreign Affairs, and Frank-Walter Steinmeier, German Minister for Foreign Affairs, discussed a range of current foreign policy topics
The talks focused on intensifying cooperation within the framework of the Organization for Security and Co-operation in Europe OSCE. The five foreign ministers called for greater institutionalised cooperation, especially with regard to issues concerning economic integration in the OSCE area. The basis for this was the OSCE Ministerial Declaration signed at the previous meeting held in August 2015. In addition, the foreign ministers discussed potential ways of promoting cooperative security and regional cooperation in the Middle East. Didier Burkhalter also presented Switzerland's Foreign Policy Action Plan on Preventing Violent Extremism, referring in this context to Switzerland's long-standing development policy commitment in the region.
Furthermore, in a joint declaration the five foreign ministers called for "constructive relations between the European Union and its neighbours". The declaration ends: "These relations are of central importance for the future of the people on our continent. We will also continue to deepen this partnership in the future".
In addition, the five ministers underlined their common objective of strengthening dual vocational education and training. A joint donor committee based in Switzerland was set up in 2015. The official inaugural meeting took place at the Swiss Hotel Management School Lucerne on 14 April 2016. The five foreign ministers will continue to pursue the aim of intensifying cooperation on the promotion of the German language worldwide. Furthermore, the foreign ministers of the German-speaking countries talked about their cooperation within the United Nations.
Mr Burkhalter will attend a breakfast meeting tomorrow in Vaduz with young journalists from the Journalism and Public Relations summer academy.
Meetings between the foreign ministers of German-speaking countries have taken place since 2006, with Germany participating since 2012 and Luxembourg participating since 2016. The aim is to strengthen cooperation in areas of common interest. These regular meetings also help to consolidate relations between the five countries and facilitate the exchange of information. The previous meeting of German-speaking foreign ministers took place on 16 August 2015 in Neuchâtel.
---
Further information:
Bilateral relations between Switzerland and Germany
Bilateral relations Switzerland–Austria
Bilateral relations Switzerland–Luxembourg
Bilateral relations Switzerland–Liechtenstein
FDFA web dossier on the OSCE

---
Address for enquiries:
Information FDFA
Bundeshaus West
CH-3003 Bern
Tel.: +41 58 462 31 53
Fax: +41 58 464 90 47
E-Mail: info@eda.admin.ch
---
Publisher: