The enlargement process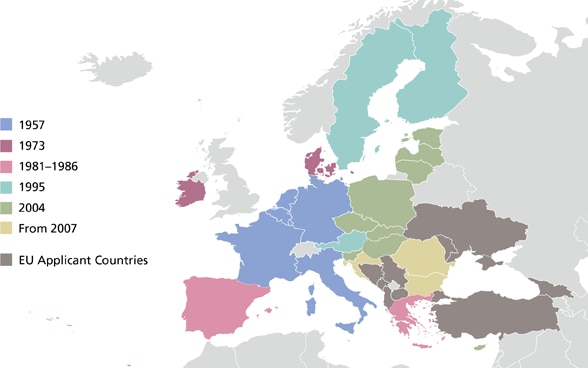 2020: UK withdrawal from the EU
2013: Croatia
2007: Bulgaria, Romania

2004: Estonia, Lativa, Lithuania, Malta, Poland, Slovakia, Slovenia, Czech Republic, Hungary, Cyprus 
1995: Finland, Austria, Sweden
1986: Portugal, Spain
1981: Greece

1973: Denmark, Ireland, United Kingdom
1957: Belgium, Federal Republic of Germany, France, Italy, Luxembourg, Netherlands


Candidates for accession: Albania, North Macedonia, Montenegro, Serbia, Türkiye, Ukraine, Moldova, Bosnia and Herzegovina
Since 1957, the European Union (EU) has been continually gaining new members. In 2004, ten candidate countries joined the EU at the same time, marking the largest expansion to date, as only two to three countries had joined in a single year prior to that. The EU enlargement process is also significant because in many countries the possibility of joining the EU plays a major role in domestic politics. The UK's withdrawal from the EU in 2020 was a first, after decades of EU expansion.
In 2004, the EU welcomed ten new member states in its largest enlargement round to date: Cyprus, Czech Republic, Estonia, Hungary, Latvia, Lithuania, Malta, Poland, Slovakia and Slovenia. Two additional countries – Bulgaria and Romania – joined in 2007. Since Croatia's accession on 1 July 2013, no other countries have joined the EU. Following the UK's withdrawal in 2020, the EU now has 27 member states.
Significance and consequences of EU enlargement
The prospect of joining the EU – and subsequent membership – have played a major role in new member states' transition to democracy and a social market economy. The EU's eastward enlargement helped to overcome the ideological division of Europe caused by the Cold War and represented a decisive step towards greater stability and shared prosperity for the continent. The enlargement process has also increased the EU's population and number of official languages. Irish became an official EU language in 2007. Croatia's accession in 2013 brought the number of official languages to 24. Furthermore, the Council of the EU recognises several regional languages, such as Catalan and Basque. Member states may also request translations of certain documents in these regional languages.
Who can become a candidate for EU membership? Potential candidates for EU membership have to meet political, economic and legal conditions, known as the 'Copenhagen criteria'.
Enlargement process: development since 2003
In 2003, the EU held out the prospect of membership to the countries of the Western Balkans, provided they met the necessary criteria. The EU has begun accession negotiations with Serbia and Montenegro. Albania, Bosnia and Herzegovina, Kosovo and North Macedonia also have a clear prospect of joining. In addition to the Balkan states' membership, the possibility of Turkey joining the EU, whose accession negotiations began in 2005, is also a controversial issue within the EU. Moreover, the European Commission's most recent accession report on the situation in Turkey highlights, among other issues, serious backsliding with respect to judicial independence and freedom of expression in the country. Ukraine and Moldova were granted candidate country status in June 2022, and Bosnia and Herzegovina in December 2022.