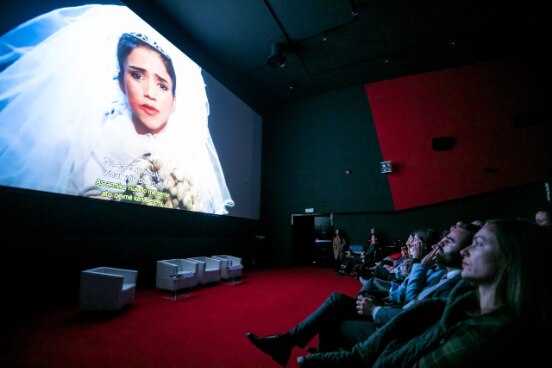 Albania became the next destination for the Human Rights Film Tour - a travelling event that brings stories about human rights in front of international audiences. Cinema 'Millennium' in Tirana was packed to the full for the screening of 'Sonita' – winner of the 2016 Sundance Film Festival Grand Jury Prize and Audience Award for World Cinema Documentary.  
"Standing in for human rights is one of the main pillars of Switzerland's international engagement. My country is almost intrinsically linked to Human Rights through the city of Geneva: it hosts numerous important human rights organisations, among them the Human Rights Council of the UN; and it is the home city of the four international Geneva Conventions on Humanitarian law – the four most universally recognised conventions, so far endorsed by 196 nations", said Swiss Ambassador Christoph Graf.
"If you don't give up on your dreams and goals, even when obstacles appear, you have the chance to reach everything possible and make your dreams come true", said Deputy Prime Minister Senida Mesi during the discussion that followed the film. This statement was also reinforced by the other representative in the panel Ms. Rafaela Rica, entrepreneur and CEO of PR agency 'Iceberg Communication'. Both speakers echoed perfectly the content of the movie and its key message that women and girls can and must fight for their rights and dreams.
The panel discussion after the film centred on women's role in politics, economy, and society and the prevailing stereotypes that stand in their way.
Sonita is a film about a determined and animated Afghan teen who has emigrated to Tehran, Iran, and who dreams of becoming a famous rapper. She is a feisty, spirited young woman who fights to live the way she wants as an artist, singer, and musician, in spite of all the obstacles she confronts in Iran and her conservative patriarchal family. In harsh contrast to her goal is her family's plan to marry her off to receive her dowry according to the tradition in Afghanistan. Armed with nothing but passion and persistence, she must turn obstacles into opportunities.
The event was also greeted by Erinda Ballanca – Ombudsperson, Brian Williams - United Nations Resident Coordinator in Albania and Erida Skendaj - Executive Director of the Helsinki Committee.
The Human Rights Film Tour will pass through 45 countries during 2018 as part of celebrating the 70th anniversary of Universal Declaration of Human Rights (Paris 1948). It is organised by the International Film Festival and Forum on Human Rights in Geneva, the Swiss Federal Department of Foreign Affairs and the United Nations Office of the High Commissioner for Human Rights, the Tour.
Switzerland works for the protection and promotion of human rights at both bilateral and multilateral levels by including government and non-government actors in its efforts. The Swiss city of Geneva is historically linked to peace and human rights and continues to be a centre of many global efforts for advancing human rights to all corners of the world.