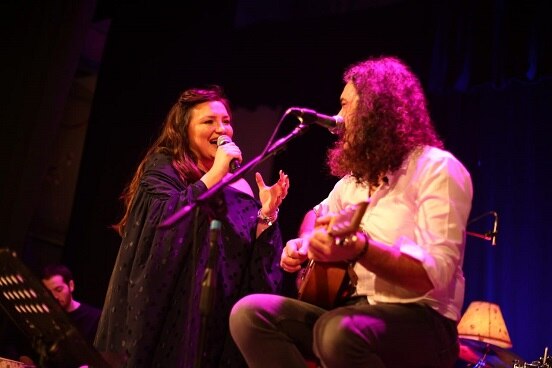 Nine new songs were performed yesterday evening for the public of Tirana. The concert marked the publication of the album titled "9", which is now available to purchase. This album collects songs about social and personal themes, composed by the artist himself.
The production and the promotion of the album was supported by the Swiss Cultural Fund in Albania, through the local grant "Production or Promotion of Alternative Music".
 "Alternative music is going through harsh days. That is because this genre is distant from commercial trends. But we believe that even commercial music would not survive without the inspiration from alternative experimentation", said Kleidi Eski, representative of the Swiss Cultural Fund in Albania.
More than 150 spectators attended the concert at the Puppet Theater, which lasted about one hour.
"On this album, a dedicated group of musicians worked very hard, recently until dawn", said Vitmar Basha, author of the project.
Artist Marsela Çibukaj joined Basha on stage for a duet, which got applauded and cheered by the public. Together with Basha on acoustic guitar, the band of musicians on stage included Fatlind Dehiri on drums, Gjergj Kaçinari on acoustic guitar, Arvit Banishta on bass and Erdio Hoxha on keyboards. Along the lyrics written by Basha the album includes lyrics written by Marsela Çibukaj and Nina Cara.
In addition to new material the album's tracklist includes two bonus tracks from the artist's repertoire.
The Swiss Cultural Fund is a project by the Swiss Agency for Development and Cooperation (SDC) that aims to support young and emerging artists through local grants, regional collaboration programmes and capacity building. It is implemented by the "Centre for Business Technology and Leadership (CBTL).