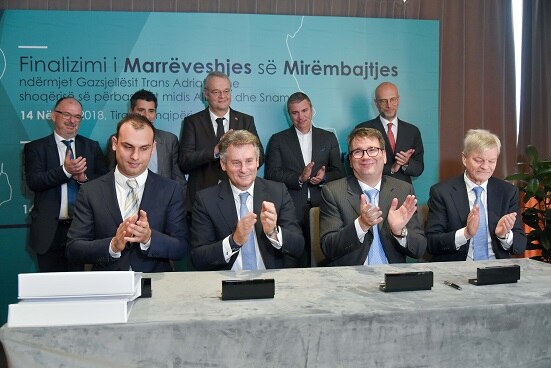 Albania's state gas operator Albgaz sh.a. together with Italian company SNAM s.p.a signed an agreement with the Trans Adriatic Pipeline (TAP) on maintenance services for the Albanian section of the pipeline. Present at the event were the Minister of Infrastructure and Energy Damian Gjiknuri, Swiss Ambassador Adrian Maître and Italian Ambassador Alberto Cutillo.
"For the first time an Albanian company – Albgaz – supported by the Italian company SNAM, will be able to undertake services for a big and important project such as the TAP gas pipeline. An added value is created from an economic point of view, but also in what Albania needs: keeping qualified people in the country", stated Minister Gjiknuri.
Albgaz Director Arbër Avrami thanked the Swiss government for providing assistance through SECO, and said: "The Maintenance Agreement, the first of its kind in Albania, is signed between TAP and Albania Gas Services Company for an initial period of 7 years, with an initial staff of 52 employees, 90% of whom are Albanian citizens".
It took over six months of negotiations and preparations for this multilateral agreement to finalise. A huge volume of support and assistance financed by the Swiss State Secretariat for Economic Affairs (SECO) went into this agreement, revising and adding sections that benefit the Albanian government and public.
A 6 million Swiss franc project is active since 2015 to build the capacities of the Albanian government in managing gas infrastructure and maximising its benefits from investments like TAP.  Experts hired by the project assist the Ministry, its related institutions (like Albgaz) and gas specialists through technical, legal and commercial knowledge and assistance.