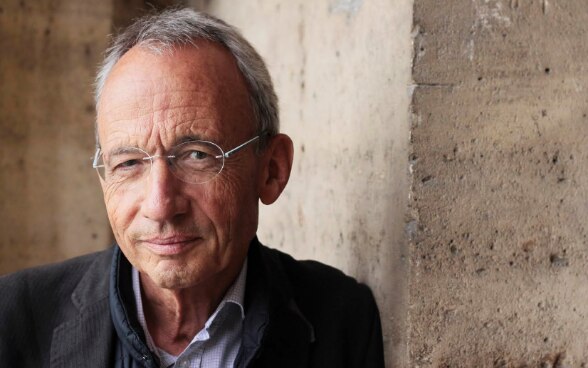 This year, the Swiss Embassy is pleased to be represented by Mr. Daniel de Roulet, writer and novelist from Geneva, at the Macao Literary Festival and the Francophone Festival. This is a rare opportunity for the Chinese public to discover the Francophone literature of Switzerland.
Daniel de Roulet, writer, novelist
Born in Geneva in 1944, Daniel de Roulet is the author of about thirty books including a series of ten novels starting with the atomic bomb that went down in Hiroshima until the incident of Fukushima. He directed the computer center of a university hospital before devoting himself entirely to writing. The high-achieving author is also renowned for creating "dreamers" in his fictional stories.
Invited by the Swiss Embassy in China, de Roulet will be visiting China from March 3 to 22, to give pubic readings of his latest publications: Terrestrial Terminal: 200 Love Letters; and You Haven't seen Anything in Fukushima: About March 11, 2011. During his lecture on the writing and numerical tools, de Roulet will demonstrate the advantages and limitations of reconstructing novels in the digital age.
Program: Public readings
Terrestrial Terminal: 200 Love Letters
In summary: They have already spent more than half of their lives together, when they decide to undertake a great journey. She is a violinist, he's a writer. First they travel on a container ship, along the Pacific coast, from Patagonia to Alaska by bus, from one terrestrial terminal to the next. But can their relationship pass the challenge of constantly being together every minute and day? Will their love survive? For seven months, she travels without her violin, not knowing that every day, he is writing down his reflections on the progress of their relationship in form of a letter. In the end, there are more than two hundred letters in total.
You haven't seen anything in Fukushima: About March 11, 2011.
In summary: "The author who constantly questioned the technological changes of his time cannot but ask the reader about the drama of Fukushima. He does so with restraint which expresses his anxiety as much as his respect for other ways of thinking. " -- Le Monde
Workshop
21st Century Writer's Workshop: Writing and Numerical Tools
Author de Roulet looks back on 24 years of experience as a writer, during which he published the ten-volume saga beginning with Hiroshima and finishing with Fukushima. He will specify how he wrote, constructed, deconstructed, and barely rebuilt his books. During this process, with the help of his experience in computer science, he implemented different techniques to shift the point of view of the characters and that of his readers.
The duration of the conference is one hour. The application of Human Simulation will be consulted in particular, on mobile phones, tablets and computer, available on all platforms.
Agenda 
| | | |
| --- | --- | --- |
| City | Date | Venue |
| Hong Kong | March 3 | Parenthèse bookstore |
| Macao | March 4 - 8 | Macao Literary Festival |
| Guangzhou | March 9 | Guangdong University of Foreign Studies |
| Guangzhou | March 10 | UN Bookstore |
| Wuhan | March 11 | French Consulate General in Wuhan |
| Changsha | March 13 | Changsha University |
| Shanghai | March 15   | Alliance Francaise Shanghai |
| Shanghai | March 17 | Shanghai Foreign Studies University |
| Beijing | March 20 | Beijing Foreign Studies University |
| Beijing | March 21 | Bookworm |