Ambassadors Tamara and Pietro Mona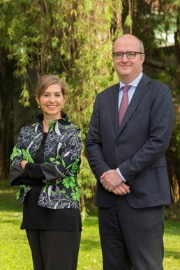 A warm welcome to the website of the Embassy of Switzerland in Addis Ababa.

The Embassy is covering Switzerland's bilateral relations with Ethiopia, Djibouti and South Sudan as well as shaping our partnership with the African Union (AU), the United Nation's Economic Commission for Africa (UNECA) and the Intergovernmental Authority on Development (IGAD), headquartered in Djibouti.

For the first time in Addis Ababa, a married couple has been entrusted to lead the Embassy in a job-sharing arrangement. Tamara Mona is the Ambassador in charge of Ethiopia and South Sudan, while Pietro Mona is the Ambassador of Switzerland to Djibouti as well as Permanent Representative to the AU, IGAD and UNECA. Together with our professional and motivated staff of over 40 colleagues, we want to strengthen and diversify our bilateral relations, deepen people to people exchanges in various fields of interest, boost economic ties, strive for innovation, be a reliable partner for Ethiopia, South Sudan and Djibouti in different fields of cooperation and strengthen Switzerland's role as a partner of the African Union, IGAD and the UNECA.

Our work in the region will be guided by the Sub-Saharan Africa Strategy adopted by the Federal Council in January 2021 that acknowledges the great opportunities to deepen bilateral and multilateral partnerships but also the remaining challenges. In the field of development cooperation and humanitarian aid, the Embassy is active in implementing the Swiss Cooperation Strategy for the Horn of Africa 2022–25. Specific areas of engagement are the health sector, governance, food security as well as migration, displacement and protection. Through our Cooperation Office in Juba we are implementing the Swiss Cooperation Strategy for South Sudan focusing on food security and livelihoods, protection of civilians and promotion of human rights, as well as on peace- and nation-building.

Together with our consular team here in Addis Ababa, our consular antenna in Juba and the Swiss Honorary Consulate in Djibouti we stand ready to support the Swiss community in the areas of registration, identity cards, civil status matters, certifications etc. Don't hesitate to get in touch with the Embassy should you need assistance and also check out the services offered through the Online Desk for Swiss nationals residing abroad. This website also offers access to all the necessary information regarding visa and entry requirements.

We hope that this website can be a relevant resource for the Swiss citizens living in Ethiopia, South Sudan and Djibouti, but also for anyone interested in learning more about Switzerland – as a destination for travel, study, business and culture or as a leading global hub for innovation. If you are interested to get more updated information about our activities you can follow us on @SwissEmbassyAddisAbaba and @SwissAddisAbaba.

Finally, your comments and suggestions on the information provided on this website are welcome and we are grateful for any feedback you may wish to provide (addisababa@eda.admin.ch).
With our best regards
Tamara Mona
Ambassador to Ethiopia and to South Sudan
Pietro Mona
Permanent Representative to the African Union, IGAD and UNECA as well as Ambassador to Djibouti