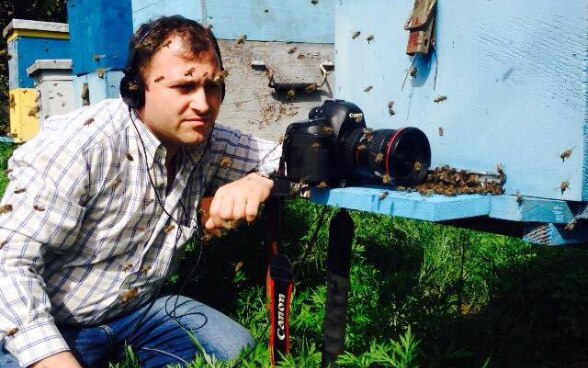 Lettuces over citruses – was the choice of Giorgi Surmanidze, a young ambitious man in his early thirties when back in 2008 he cut down all the citruses on his land plot in Gonio for lettuces. Journalism over flourishing business – was the choice of Giorgi Surmanidze, made in 2012 when he confided his business to his partner and joined the Ajara TV Company to educate farmers.    
"It was revolutionary," remembers Giorgi. "In 2008 to go to Batumi, buy a land plot and instead of growing traditional citruses to start growing unpopular lettuces. Red lettuce, have you heard of it?" he challenges. "We had no knowledge. We were greedy for information, which could only be searched on the web and only in English. But it could not stop us. Georgia is blessed to have a fertile land – you drop a grain, and tomorrow you yield a harvest. And so we started, with information translated from English."
Georgia is a small country with its 50% of population dependent on agriculture and although many communication channels produce agricultural programmes, the most popular source of information for farmers are still neighbours, friends and informal male gatherings.
"For many start-ups the most challenging is to find a market. For us the challenging was to find information. Information has a power only when it is new. What is the point of relaying information everybody is aware of anyway? How can anyone expect a farmer to be successful given the paucity of information, poor access to existing information and no information on unfamiliar agricultural products? At some point I realised that I would be more beneficial if I become a journalist and start educating farmers," continues Giorgi.