Embassy of Switzerland in India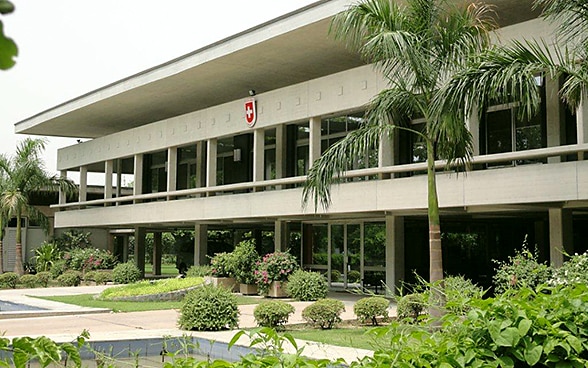 As the official representation of Switzerland, the embassy covers all matters concerning diplomatic relations between the two countries. It represents Swiss interests in the areas of political, economic and financial affairs, legal arrangements, science, education and culture.
Coronavirus (COVID-19)
Government of India has allowed resumption of regular international flights from 27th March 2022. Please check directly with the respective airline for the latest schedules and operations. All domestic flights in India will also resume operations without restriction. Please consult the website of the Ministry of Civil Aviation for more information.

Swiss International Airlines have resumed direct flights to Switzerland from Delhi and Mumbai. For more details please contact the airline directly.
Swiss: www.swiss.com 1800-102-5838
Annex 5 COVID-19 Certificates Ordinance

Conversion of vaccine certificate into a Swiss Covid Certificate: COVID certificate application platform

For more information, kindly refer to the pages of the Federal Office of Public Health (FOPH) and State Secretariat for Migration (SEM)
Travel Check

To see what rules apply to your own particular situation when entering Switzerland, consult the online Travelcheck.
Information about children less than 18 years of age
Children below the age of 18 years do not need to be vaccinated.
RTPCR Test
To enter Switzerland an RT-PCR test is not required. However, most of the airlines do require the RT-PCR test. Please check with the airlines accordingly.
Transit to Switzerland
If you don't have a nonstop flight to Switzerland, transit through other countries might be restricted. Please check with the authorities of concerned countries.
Travelling from Switzerland to another Schengen State
Visiting other Schengen countries internally from Switzerland might be restricted. Please check with the authorities of concerned countries.
The Embassy of Switzerland in New Delhi is currently accepting all visa categories for persons arriving from third countries like India who can prove they have been fully vaccinated. Booking of appointment is mandatory for all applications. VFS Global Services Pvt. Ltd. is operational and accepting visa applications at the Centers in Delhi, Mumbai, Kolkata, Bangalore, Chennai, Cochin and Hyderabad.

For Swiss Citizens

We ask all Swiss travelers abroad to register their details and place of stay on the "Travel Admin App". This will make it easier for us to contact them.
For extension of your Indian visa, please visit: indianfrro.gov.in
Vaccination against Covid-19 for Swiss abroad
In principle, Swiss abroad must comply with the vaccination policy of their host country. For logistical reasons, it is not possible for the Confederation to send vaccines used in Switzerland to its representations abroad. For more information, please consult the Covid-19 section of the Organisation of the Swiss Abroad webpage (version E / D / F) chapter Vaccination.
Please also follow the recommendations of the World Health Organization (WHO), Swiss Federal Office of Public Health (FOPH), Swiss Federal Department of Foreign Affairs (FDFA) travel advice "Focus Corona Virus"

Federal Office of Public Health (Switzerland)
New coronavirus / Recommendations for travellers (Quarantine regulations)
Federal Office of Public Health (Switzerland)
FDFA Travel Advice, Focus Coronavirus (COVID-19)
Helpline FDFA:
+41 800 247 365
+41 58 465 33 33
helpline@eda.admin.ch